New Delhi/Kolkata: Shashank Manohar's extension as the chairman will be one of the key points of discussion as the member nations of the International Cricket Council (ICC) meet in Kolkata for its More...
With Saina Nehwal's gold medal in badminton, India finished third on the medals tally at the 21st Commonwealth Games, in Gold ..
Saina Nehwal beat Pusarla Sindhu 21-18, 23-21 to win the women's singles badminton gold at the Commonwealth Games on Sunday. In ..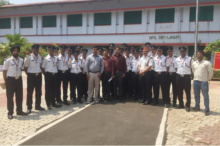 Nagpur: The Second year students of National Fire Service College visited the 'Ordnance Factory Institute More...
Nagpur: Tributes were prayed to Fire Service personnel who lost their lives on 14th April 1944 at Mumbai More...
Nagpur: Amar Sewa Mandal's Kamla Nehru College of Pharmacy, Butibori has organized One Day State Level More...
Nagpur: As the notorious Nagpur summer making life of citizens miserable, water crisis in many parts of the city adding more ..
Nagpur: Central India Institute of Medical Sciences (CIIMS), Nagpur in collaboration with the National Institute of Miners' Health (NIMH) and Priyadarshini ..
It's official: Android Messages for Web is coming. Nearly two months ago, an APK Teardown of the Android Messages mobile application ..
For Weight Loss: Are you planning to reduce weight? Then go for coconut oil. Fat in coconut oil is used to ..
October Movie Star Cast: Varun Dhawan, Banita Sandhu, Gitanjali Rao, Sahil Vedoliyaa. Director: Shoojit Sircar We live in the times of ..