Nagpur Today : City No 1 eNewsPaper for Nagpur Latest News
Nagpur: With the country engrossed in celebrations of 'Azadi Ka Amrit Mahotsav', the Nagpur Municipal Corporation (NMC) organized a 'Tiranga Yatra' to commemorate 75th year... More...
Tabhane, Vasani and Kothari mark impressive wins
In the second round matches 14th seed Manoj Tabhane beat Nishant Agnihotri 2-0 and Bhavesh Vasani defeated Mohan Manian 2-0 One of the contenders of...
More...
India was on Tuesday suspended by world governing body FIFA for "undue influence from third parties" and stripped the country of the right to host...
Nagpur, : (Slum soccer) krida vikas sanstha In the ongoing zhopadpatti football tournament ( West North Division.) Presented by UCN news and GHRaisoni and...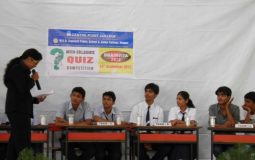 Centre Point College, Nagpur and M.K.H.Sancheti Public School & Junior college had jointly organized Intercollegiate Quiz Competition...
More...
Nagpur College News : Axis, the annual techfest organized by the city's Visvesvaraya National Institute of Technology (VNIT), is witnessing tremendous competition on Day Two. The...


Nagpur Education News : An inter-collegiate event called  "Spandan and  Runbhoomi" is being held at Department of Business Management (D.B.M), Nagpur...