Nagpur Today : City No 1 eNewsPaper for Nagpur Latest News
Nagpur: Known for its consistently delectable food, for over two decades now, Hotel Airport Centre Point has recently completed three glorious years of its 'Take... More...
India captain KL Rahul has won the toss and elected to bowl against Zimbabwe on Thursday. Skipper KL Rahul's form and fitness will be observed keenly when India take on...
More...
Tabhane, Vasani and Kothari mark impressive wins In the second round matches 14th seed Manoj Tabhane beat Nishant Agnihotri 2-0 and Bhavesh Vasani defeated Mohan Manian...
India was on Tuesday suspended by world governing body FIFA for "undue influence from third parties" and stripped the country of the right to host...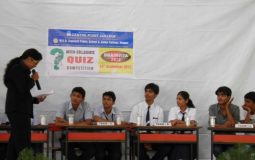 Centre Point College, Nagpur and M.K.H.Sancheti Public School & Junior college had jointly organized Intercollegiate Quiz Competition...
More...
Nagpur College News : Axis, the annual techfest organized by the city's Visvesvaraya National Institute of Technology (VNIT), is witnessing tremendous competition on Day Two. The...


Nagpur Education News : An inter-collegiate event called  "Spandan and  Runbhoomi" is being held at Department of Business Management (D.B.M), Nagpur...