Nagpur Today : City No 1 eNewsPaper for Nagpur Latest News
Nagpur: In a presumptuous act, a murder accused was seen stating that today he will go to jail, by tomorrow he will secure bail and... More...
Representative Pic Nagpur: Good news for former Vidarbha players, men and women both, Vidarbha Cricket Association has announced starting of pension for women while doubling the amount of pension for...
More...
The BCCI on Friday sacked the four-member senior national selection committee led by Chetan Sharma after the Indian cricket team failed to reach the final...
Nagpur/Mumbai: In an update regarding Australia's tour of India in 2023, it is being learned that Nagpur is set to host a Test match when...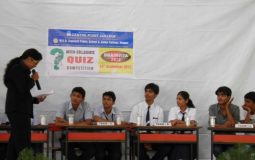 Centre Point College, Nagpur and M.K.H.Sancheti Public School & Junior college had jointly organized Intercollegiate Quiz Competition...
More...
Nagpur College News : Axis, the annual techfest organized by the city's Visvesvaraya National Institute of Technology (VNIT), is witnessing tremendous competition on Day Two. The...


Nagpur Education News : An inter-collegiate event called  "Spandan and  Runbhoomi" is being held at Department of Business Management (D.B.M), Nagpur...