Nagpur Today : City No 1 eNewsPaper for Nagpur Latest News
Nagpur: Diamond Jubilee Celebration of Durga Puja and Laxmi Puja festival to be held under the auspices of Bengali Cultural Society from September 30 to... More...
Mohammed Siraj on Friday replaced injured pace spearhead Jasprit Bumrah for India's remaining two T20 International matches against the visiting South African team. Bumrah was on Thursday ruled out of...
More...
Nagpur District Badminton Association Secretary Mangesh Kashikar among Vice-Presidents Nagpur: The sitting Maharashtra Badminton Association (MBA) President Arun Lakhani got elected for one more term as...
Rohit Sharma, Axar Patel power India to 6-wicket win over Australia in 8-over game

India chased down 91-run target to level T20I series 1-1
Captain...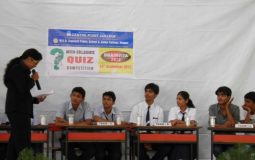 Centre Point College, Nagpur and M.K.H.Sancheti Public School & Junior college had jointly organized Intercollegiate Quiz Competition...
More...
Nagpur College News : Axis, the annual techfest organized by the city's Visvesvaraya National Institute of Technology (VNIT), is witnessing tremendous competition on Day Two. The...


Nagpur Education News : An inter-collegiate event called  "Spandan and  Runbhoomi" is being held at Department of Business Management (D.B.M), Nagpur...