---
Also Read: 51.72% turnout in Ramtek till 5 pm, 60.50% in Bhandara-Gondia
The last minute rush: A large number of voters most of them women queue up for voting at different booths in the city during the last 20 minutes of polling.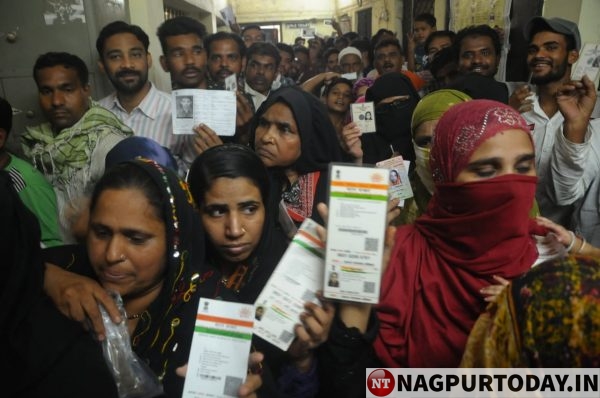 ---
Also Read: Grand children of late Madhukar Kimmatkar assists poll process at Ramtek booth
Smita and Sachin Dravekar -OCW
---
Also Read: 8,28,345 voters including 4,52,008 male & 3,76,334 female voters cast votes till 3 pm in Nagpur
Voters from minority community of Rameshwari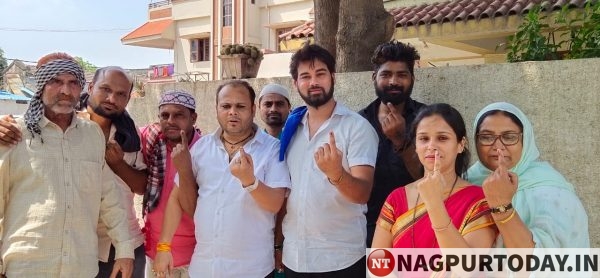 ---
President of Desh Janhit Party Balu Meshram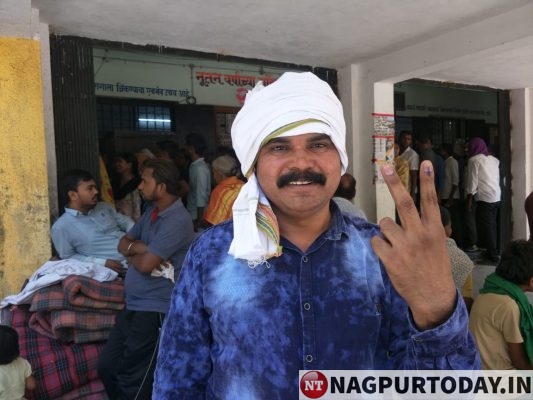 ---
Guardian Minister of Nagpur district Chandrashekhar Bawankule exercises his franchise at a booth in Koradi
---
Also read: Bhandara-Gondia records 21.88% voting till 11 am
---
Also read: Age is just a number, 'josh' notches higher for these Nagpur voters
---
Also read: Video: BJP workers mess up with cops
---
The entire Royal family of Bhosale headed by Raje Mudhoji Bhosale exercised their franchise at the polling booth of Town Hall in Mahal
Also Read: Polling picks up, 36.72% turnout in Nagpur till 3 pm
---
Nagpur Lok Sabha constituency registers 27% voting till 1 pm.
Also Read: City records 27 per cent polling till 1 pm
---
Also Read: 3,79,334 voters including 1,89,762 male and 1,89,572 female voters cast vote in Nagpur till 11 am
Braving the scorching heat, a large number of voters, particularly the youngsters and first time voters turned up at their respective polling booths to take part in the democratic exercise in various parts of the city.
---
Also read: MPCC complains about EVM malfunctioning in South Nagpur
National President of Peoples Republican Party, Jogendra Kawade along with his family after casting their votes at Pitle Shastri High school, Laxmi Nagar.
---
Also read: Ramtek records 18.10% voting till 11 am
West Nagpur MLA Sudhakar Deshmukh shows his fingure after casting his vote
Also Read: Vidarbha records 13.70% voter turnout till 11 am
---
District Collector Ashwin Mudgal along with his wife pose after casting their vote in the city.\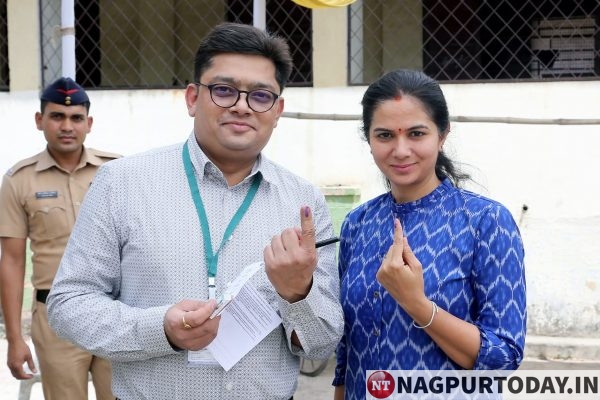 ---
BJP Rajya Sabha member Padmashree Dr Vikas Mahatme went on a cycle at NMC school Vivekand Nagar to cast his vote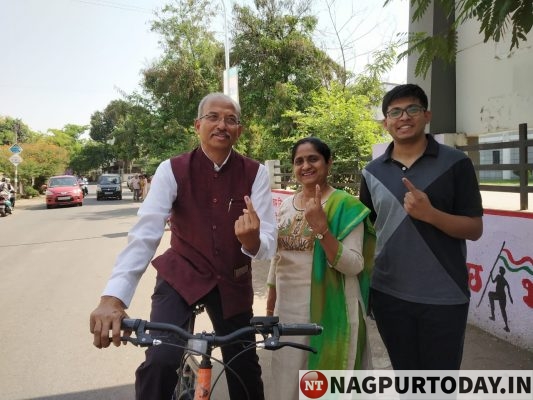 ---
Heavy vote: Chief Minister Devendra Fadnavis along with his wife Amruta and mother after casting his vote at a booth in Dharampeth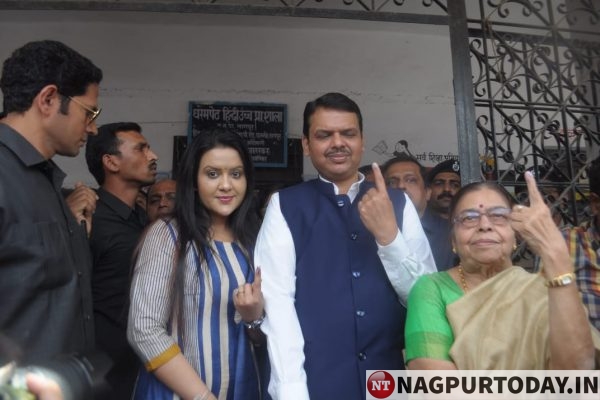 Also Read: Nagpur records 17.56 voter turnout till 11 am
---
A 99-year-old lady Basanti Bismogre beating all the odds of age and scorching heat turned up at a booth in Ramtek to cast her vote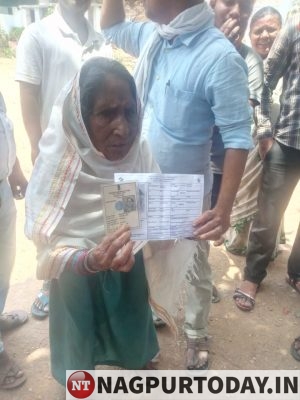 Also read: Malfunctioning of EVMS hit polling in some parts of city
---
Nagpur records 20 per cent of voting till 12 am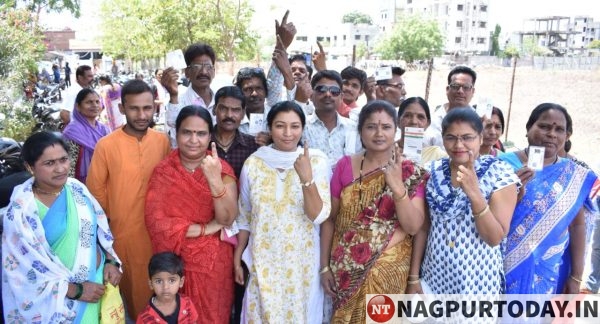 ---
Ramtek records 9 per cent till 11 am
---
Polling was delayed by one-and-half hour at one of the polling booths in Dharampeth following complaints in the VVPAT machine.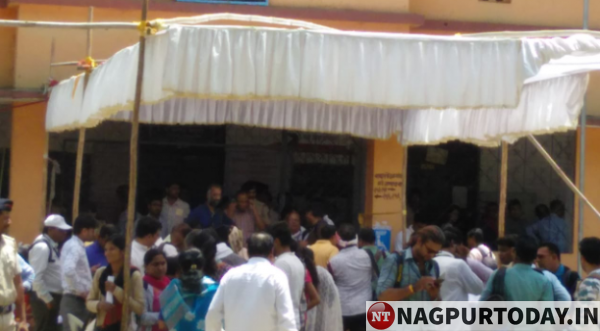 ---
Santosh Ambekar poses before the media after exercising his right.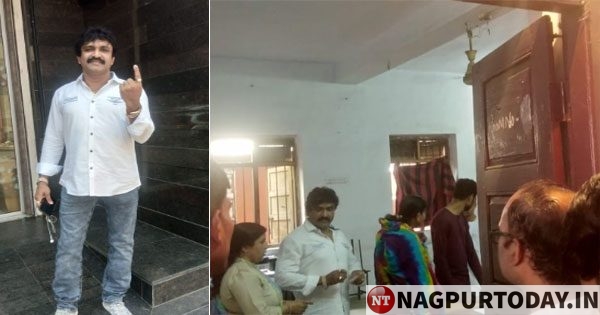 ---
Veteran RSS functionary M G alias Baburao Vaidya exercised his democratic right at the polling booth at New English School, Congress Nagar.
---
NCP leader Ajay Patil and Pragati Paul at Law College booth
---
Dipen Agrawal President Chamber of Associations of Maharashtra Industry & Trade along with his family.
---
All smiles: First time voter Shridevi Indapawar reaches a booth in Dharampeth to cast her vote.
---
South Nagpur BJP MLA Sudhakar Kohale along with his wife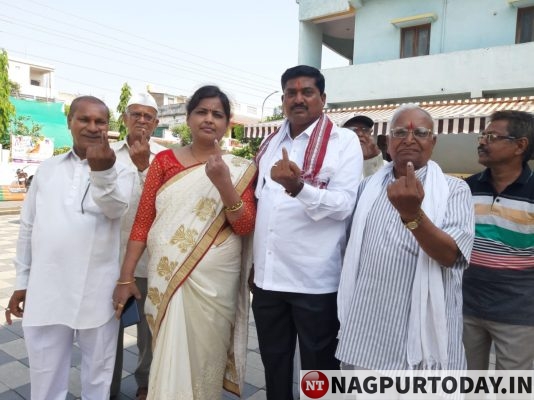 ---
BJP corporator Sanjay Bangale (left), Prabhakarrao Mundle(centre) along with members of Mundle family.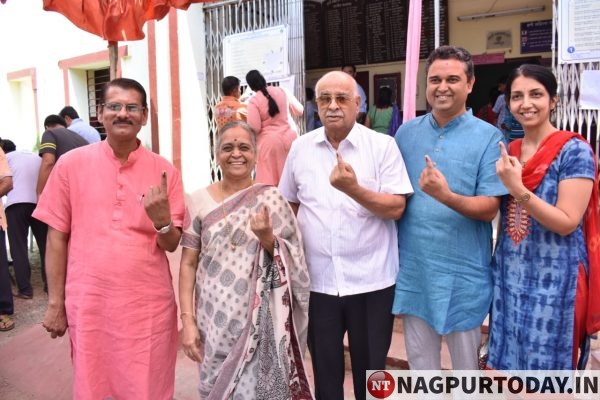 ---
Former BJP Rajya Sabha member Ajay Sancheti along with his family
---
Former minister of state for energy and Congress leader Rajendra Mulak along with his wife after casting their votes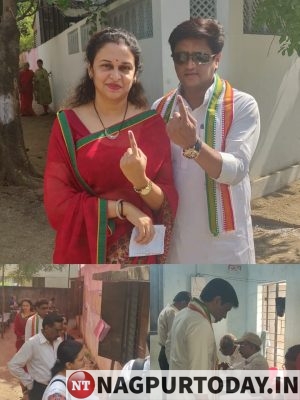 ---
Also Read:नागपुरात उमेदवार यादीवर नितीन गडकरींच्या नावापुढे 'रिजेक्टेड'चा शिक्का
Guess whom did he vote: BJP-Shiv Sena candidate and Union Minister Nitin Gadkari exercised his frabchise with wife Kanchantai Gadkari, son Nikhil and other family members at one of the booths in Mahal.
Read: Nitin Gadkari, Nana Patole cast their votes in full might
---
United we stand: Veteran Congress leader and seven time MP Vilas Muttemwar along with his sons Vishal, Geetesh, wife Chhayatai, daughters-in-law caste their vote at Saraswati Vidyalaya, Shankar Nagar
---
Always leading. Bajaj couple – Ashok and Subhadra at booth in Jaripatka
Read: इस बार भी बजाज दम्पति ने 'पहले मतदान' की 41वर्षों की परम्परा को कायम रखा"
---
Republican leader and former minister Adv Sulekha Kumbhare pose for a snap after casting her vote in Kamptee
---
Seeking God's blessings: Congress candidate Nana Patole along with his family members visited few temples, performed puja and sought God's blessings before proceeding to the polling centre.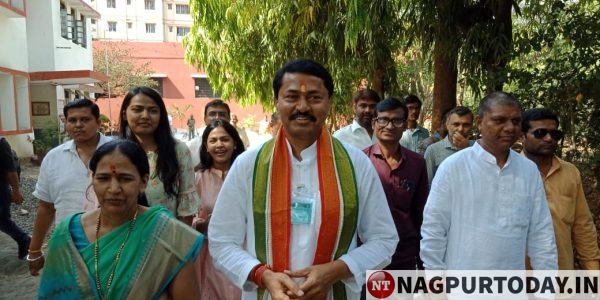 ---
Simplicity: Tamil Nadu Governor Bawarilal Purohit stands in a queu to exercise his democratic right at a booth in Dharampeth
---
On nation's duty always.: NPC Harshdeep Khobragade snapped after he cast his vote
---
Jyoti aamge: Exercising the right with full enthusiasm
Read: Poll update : World's shortest woman, newly married couple among early morning voters
---
नरेंद्र नगर प्रभाग 35 सकाडीचं मतदारांचा उत्साह जोरात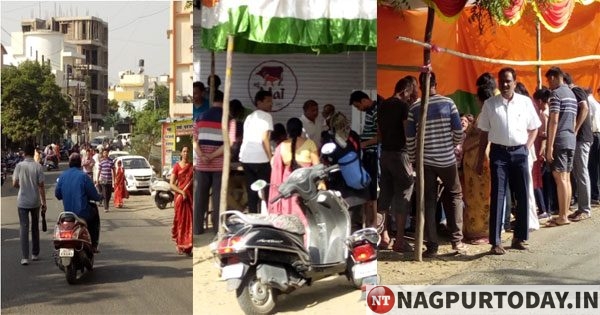 ---
Hum sath sath hai: A couple caste their vote first time after their marriage
---
A young first time voter is all excited after she casts her vote. The girl busy taking her selfie outside the polling booth to share with her friends and near ones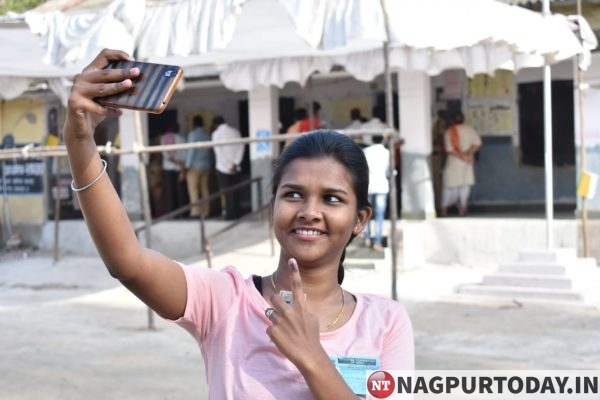 ---
First Time Voter Reena Khushwaha casts her vote
---
Kishore Uttamrao Gajbhiye Congrees Candidate for Ramtek Lok Sabha Constituency casts his Vote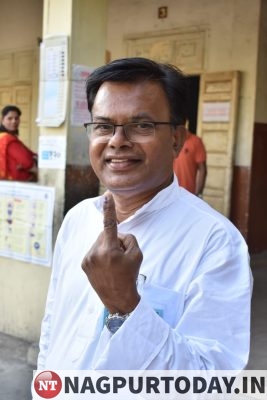 ---
Rashtriya Swata Sevak Sangh Sarasanghachalak Mohan Bhagwat along with Sarkarywah Bhaiyya ji Joshi exercised their franchise early morning at the polling booth in Daftari Shala
---
RSS Chief Mohan Bhagwat Casts Vote in Nagpur, Says Voting is Our Duty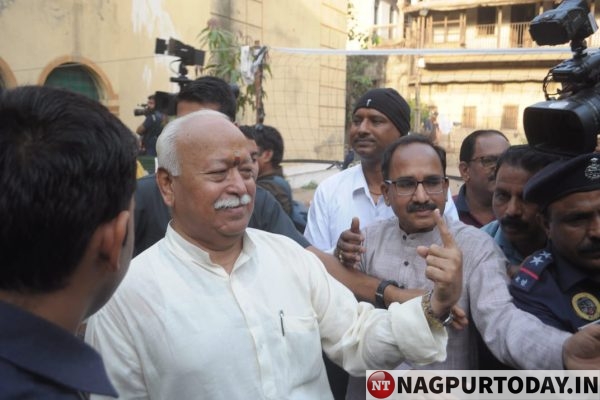 Read: RSS Chief Mohan Bhagwat Casts Vote in Nagpur, Says Voting is Our Duty
---
After months of hectic campaigning, of strategising, making promises and of ensuring no stone is left unturned to ensure a peaceful and orderly Lok Sabha 2019 election, India is all set to vote in the first phase which begins from Thursday.
The first phase may be only one of seven but it assumes vital significance considering how it could set the tempo for what is to come all the way till May 23 – the date for counting of votes and result declaration.
​Voting would take place in 91 parliamentary constituencies across 20 states and union territories in the country. Battling it out for political power and glory are 1279 candidates – each one out there to woo voters. Of these, there are 89 women candidates or 7 per cent. The right to choose between them would be with over 14 crore people in a country with an electorate of 90 crore.
While there are many states which will vote in multiple phases, states like Andhra Pradesh, Telangana, Arunachal Pradesh, Uttarakhand, Meghalaya, Mizoram, Nagaland and Sikkim will vote in just one phase, the first phase. Of these, Andhra, Arunachal and Sikkim will also vote in Assembly elections here, simultaneously. A part of Odisha too will vote in Lok Sabha election and Assembly election simultaneously.
Some of the key Lok Sabha constituencies in the first phase are:
* Ghaziabad in Uttar Pradesh – BJP's General VK Singh is facing off against Congress' Dolly Sharma and SP's Suresh Bansal.
* Kairana in Uttar Pradesh – BJP has fielded Mriganka Singh – daughter of former MP Hukum Singh who passed away last year. She faces Congress' Harendra Malik and SP's Tabassum Hasan.
* Muzzafarnagar in Uttar Pradesh – Sanjeev Kumar Balyan is leading the BJP charge against RLD's Ajit Singh.
* Nagpur in Maharashtra – Union minister Nitin Gadkari takes on Congress' Nana Patole.
* Nizamabad in Telangana – There are 185 candidates here. Main among them is Kalvakuntla Kavitha – daughter of Telanagana CM KCR. She takes on Congress' Madhu Yashki Goud.
* Secundrabad in Telangana – AIMIM chied Asaduddin takes on BJP's Bhagvanth Rao.
* Vishakapatnam in Andhra Pradesh – BJP's Daggubati Purandeswari – daughter of NT Rama Rao fights TDP's MV Sribharat and Congress'Pedada Ramani Kumari.
* Vijaywada in Andhra Pradesh – TDP's Kesineni Srinivas is contesting against YSRCP candidate Potuluri Vara Prasad.
* Tezpur in Assam – Pallab Lochan Das of BJP is fighting against Congress' GVK Bhanu.
* Gaya in Bihar – Former state CM Jitan Ram Manjhi takes on JDU's Vijay Kumar Manjhi.
* Jammu in Jammu and Kashmir – BJP's Jugal Kishore battles against Congress' Raman Bhalla.
* Bastar in Chhattisgarh – Ballot is fighting against bullet in this Naxal-infested area. Drones and 80,000 security personnel have been deployed to ensure polling is peaceful although Naxals have called for a boycott. Tuesday's attack on a BJP MLA's convoy in Dantewada would perhaps cast a shadow but EC has ensured that no untoward incident takes place. In terms of electoral battle, BJP's Bai Duram Kashyap fights Congress' Deepak Baij.
Security has been a key area of focus – especially in Naxal-affected areas and areas where crime rate is usually on the higher side.
---
Keep Watching this Space on Thursday 11 April for LIVE update of Voting in Nagpur and Ramtek

---