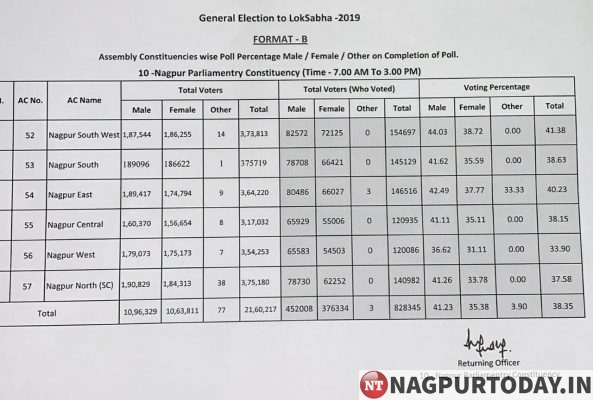 Nagpur: The biggest festival of democracy saw total 8,28,345 voters exercising their franchise in Nagpur Lok Sabha constituency. Till 3 pm, 38.35 percent voters, including 4,52,008 male voters, 3,76,334 female voters and 3 third gender voters pushed buttons in EVMs across sis Assembly segments of Nagpur Lok Sabha seat.
Nagpur Lok Sabha seat comprises total 21,60,217 voters including 10,96,329 male voters, 10,63,811 female voters and 77 third gender voters.
According to election officials, 1,54,697 voters (41.38%) in South West Nagpur segment exercised their franchise. Similarly, South Nagpur saw 1,45,129 voters (38.60%) cast votes. 1,46,516 voters (40.23%) in East Nagpur,120935 voters (38.15%) in Central Nagpur, 127086 voters (33.90%) in West Nagpur and 140982 voters (37.58%) in North Nagpur exercised their franchise till 3 pm. Out of 77 third gender voters, 3 voters – 3.90% — cast their votes.
44.03 percent male voters in South West Nagpur and 38.72 percent female voters participated in the mega democratic festival. Similarly, 41.62 percent male and 35.59 percent female voters in Nagpur South cast their votes. 42.49 percent male and 37.77 percent female voters in Nagpur East exercised their franchise. In Central Nagpur, 41.11 percent, male and 35.11 percent female voters reached the polling centres. Nagpur North saw 41.26 percent male and 33.78 percent female voters cast their votes. However, Nagpur West segment recorded a low of 36.62 percent male and 31.11 percent female voters participated in voting exercise.