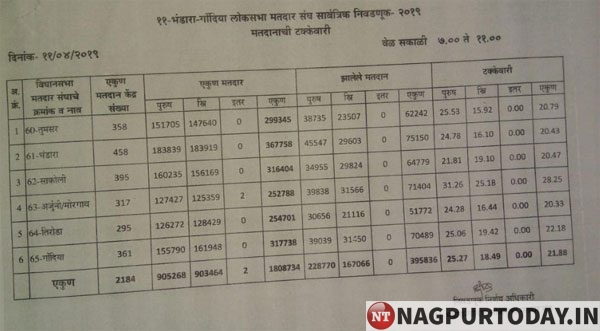 Gondia: The Bhandara-Gondia Lok Sabha constituency comprising Tumsar, Bhandara, Sakoli, Arjuni-Morgaon, Tiroda and Gondia Assembly segments saw a total voter turnout of 21.88% till 11am.
As per the election official's data total 395836 voters including 228770 males and 167066 females exercised their franchise in Bhandara-Gondia seat.
However, out of two third gender voters, no one has turned up for voting till the time.
Tumsar segment witnessed 20.79 percent voters exercising their franchise. Bhandara 20.43 percent, Sakoli 20.47 percent, Arjuni-Morgoan 28.25, Tiroda 20.33 percent and Gondia itself registered 22.18 percent voting till 11 am.
Voting for Gondia-Bhandara seat is underway in total 2184 polling centres. The constituency comprises six Assembly segments – Gondia, Tirora, Arjuni Morgaon, Sakoli, Bhandara and Tumsar having total 18,08,948 voters. 14 candidates are trying their luck from the seat but main fight is between BJP-Shiv Sena alliance candidate Sunil Mendhe and NCP-Congress nominee Nana Panchbudhe. The lone woman candidate is in the fray on BSP ticket.
According to reports, complaints of EVMs and VVPAT machines developing glitches at 13 polling centres were received in Gondia Assembly segment. The flawed EVMs and VVPAT machines were replaced resulting in delay of 10-15 minutes in commencement of voting.