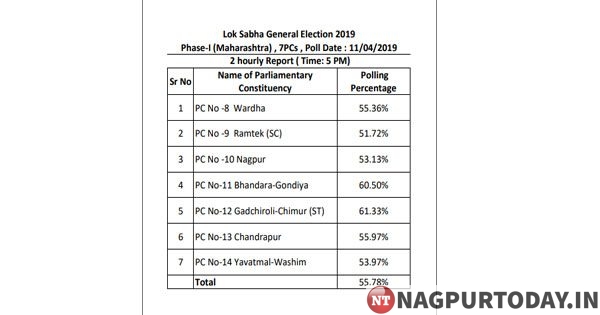 Nagpur: Ramtek (SC) constituency witnessed 51.72 percent voter turnout till 5 pm. Five other constituencies in Vidarbha namely Wardha, Bhandara-Gondia, Gadchiroli-Chimur (ST), Chandrapur and Yavatmal-Washim also witnessed voters lining up at polling centres in large numbers.
Wardha recorded 55.36 percent, Bhandara-Gondia 60.50 percent, Gadchiroli-Chimur 61.33 percent, Chandrapur 55.97 percent and Yavatmal-Washim witnessed voter turnout of 53.97 percent polling till 5 pm.
In Nagpur, 53.13 percent polling was recorded till the time the voters – young and old – enthusiastically came out of their houses braving sweltering summer heat.
The overall 55.78percent voting was recorded in Vidarbha in the first phase of Lok Sabha elections.