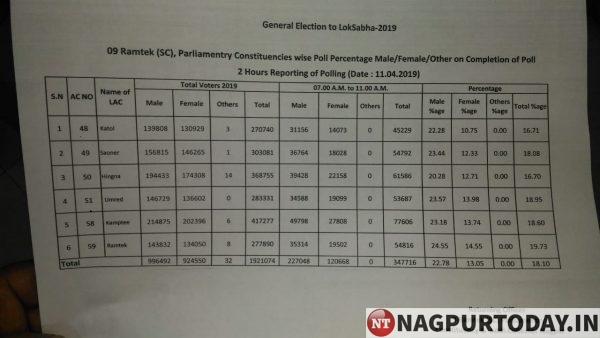 Nagpur: The Ramtek Lok Sabha constituency comprising Katol, Saoner, Hingna, Umred, Ramtek and Kamptee Assembly segments saw a total voter turnout of 18.10% till 11am.
As per the election official's data total 347716 voters including 227048 male and 120668 female voters exercised their franchise in Ramtek Lok Sabha seat
However, out of 32 third gender voters no one turned up for voting till the time.
Katol segment witnessed 16.71 percent voters exercising their franchise. Saoner 18.08 percent, Hingna 16.70 percent, Umred 18.95, Kamptee 18.60 percent and Ramtek itself registered 19.73 percent voting till 11 am.