Was the RTI Act made for troubling sincere persons like me? Asks a beleaguered Rachana Singh, Educationist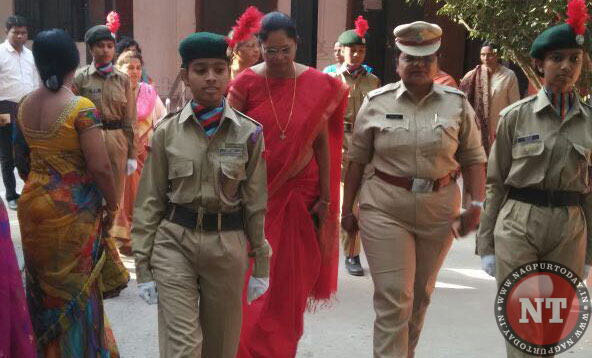 Nagpur: Rachna Singh comes from a family of educationists; her father Mr. Peter Belwa, and brother Ashish Belwa both have been Principals of Hislop College, Nagpur at different times.
She herself is Principal of St Ursula, both the High School and Junior College. She is also Secretary of Maharashtra Regional Board of Education. Because of these two roles she plays, she is a respected member of both the Christian community of the city and in the Education sector.
This lady, after spending many decades in public service is suddenly the 'target' of many accusations of financial fraud and bungling.
This began after the Education Officer, without any inspection or scrutiny suddenly fired a missive stating the 'Principal of the school (St. Ursula) owed – by way of default or fine he did not state – Rs. 20,25,051/ to the department.
Curiously, copies of this letter were promptly circulated among all the media, English, Hindi and Marathi newspapers etc. but Rachana was never sent the original letter, she had to make efforts to go collect it herself!
         Also Read: Mid-day meals' funds bungled, Edn Deptt serves notice to school principal
In an exclusive meeting with Nagpur Today Editorial team, Rachna and other Principals of Christian schools who are also members of the Maharashtra Regional Board of Eduction (that manages all schools run by Protestant missions in Vidarbha) explain the sequence of events that began early in 2016 ( 11th April 2016) culminated in this letter even after numerous presentations made by her stated that she had done nothing wrong and after two committees set up to look into the charges had also exonerated her of any crime, yet had charged recoveries under some accounting lapses. (Which Rachna agrees to… more on this later.)
Another strange fact is that committee after committee set up by Education and Mid Day departments have claimed widely fluctuating sums like, Rs. 7,34, 509/, then Rs. 16,87,004/ till the third inquiry and committee of 3 constituted by the Collector of Nagpur sometime in 2017 brought the amount down to Rs. 1,35,000/. (Which also the school is contesting.)
And then suddenly out of the blue, without doing any inquiry of any sort, the Education Officer comes up with the figure of over Rs. 20 lakhs without any rational or allowing time for any explanation and circulates it to the press!
As Rachna has been submitting repeatedly, the amount in question was paid to the E.P.F. office as the Provident Fund deduction of the employees working uner the Shalay Poshan Aahar Scheme as per the P.F. Commissioner's order.
"That I paid them the stipulated minimum wages, instead of ad hoc amounts, and contributed to their P.F. is the only thing I am 'guilty' of. This has brought me into the cross current of two state govt. departments – the Education Dept and the Mid Day meal dept – and one Central government scheme, the Provident Fund. But if I had disobeyed the directives of the PF Act, it would have landed me straight behind bars, so strict is the PF law." Says Rachna.
" Another factor that has led to recoveries being levied against my school is that posting of some legitimate expenses was done wrongly under a different head. Sum we had consumed for the Shalay Poshan Aahar ( Mid day meal) – as PF, salaries and employee loans, was shown as 'transfer to High School and Junior College non-salary grant account'.
We acknowledge that was an accounting error and our C.A. is rectifying it."
"The mess created by some vindictive elements misusing RTI Act"
Rachna Singh and her fellow Principals like Manjusha Stevenson, Principal and Head Mistress of Bishop Cotton School and Lilian Makasare, Principal and Head Mistress of BCS, CBSE hold some over zealous elements who are misuing RTI and RTE to come after Rachna Singh personally tongs and hammers.
"When you run a large academic organization for many years, you have to displease some people by not hiring their relatives – simply because they do not have the qualifications or experience – or not admitting students recommended by them… people come to you asking for so many favours! When you do not oblige they start creating trouble for you by constantly misusing RTI and RTE to create an atmosphere of doubt and maligning your reputation" bemoans Rachna.
"On the accusations of these people, an audit of food grains supplied to us for the Mid Day meal was also carried out. Not a grain of rice was found diverted or not utilized" points out Rachna with pride and confidence.
The RTI act as we incorporated from some foreign countries was good but we made the mistake of not including the important clause of Vexatious interest which was meant to safeguard a person or institute against being harassed by same individuals repeatedly and continually says Rachna, who has studied law also apart from being an educationist.
As she has complained to the Collector, Mr. Sachin Kurve, in writing:
"We want to inform you that person namely Mr. Bharat B. Chouguley (who is neither a parent nor the member of the Trust) is continuously troubling us by making repeated RTIs against us despite two inquiries having been constituted on the charges made."
There seems to be some substance to this accusation.
The number of times Chougule has used RTI in a few years just for St. Ursula is – an unbelievable 49 times!!!
…Sunita Mudaliar, Executive Editor