AAP lambasts Gadkari with another expose, alleges money laundering, links with Reatox

Nagpur News. Aam Aadmi Party (AAP) has surfaced with another round of expose targeting BJP candidate from Nagpur Lok Sabha Nitin Gadkari again. This time AAP has blown the lid off the alleged links between controversial real estate firm Reatox builders and developers. The party's post bearers have also put up an audit report in support of their claim at the press conference organized at the party's office on Thursday evening. Aam Aadmi Party (AAP) representative from Mumbai Ajit Sawanth while addressing a press meet here alleged discrepancies in funds, investments and loans acquired by Purti Group when Nitin Gadkari was the Chairman of the company. Sawanth alleged that money was laundered Nitin Gadkari by routing money through various layers (making it practically difficult to find the source and the end) and Shell Companies. Shell Companies are those companies which have fake addresses and have no production, no assets but work only for the purpose of money laundering. He said that there are 18 to 20 such shell companies which include Update Mercantile Company, Jasika Mercantile and others which have shown their addresses in Rama Bai Ambedkar slums in Mumbai.
Click here to Download the Complete Audit Report 
हिंदी मे न्यूज़ के लिय यहाँ  क्लिक करे 
The names of most of these Shell Companies have common Directors like Kawdu Pandurang Zade (who was the Deewan of Gadkari and was shown to be residing in Gadkari's residential address), Manohar Panse Director, Sagar Kottawaliwale, Nishant Agnihotri etc. Surprisingly the Chartered Accountants of all these companies and the e-mail ids too are the same. Till date, the IT reports have never been published neither has any prosecution been done on the offenders. Ideal Road Builders have 40,000 shares in Purti Group and the Director of IRB Dattatray Pandurang Mhaiskar has invested 2.8 crores in Purti. It is alleged that Gadkari had routed money through Update Mercantile one of the 18-20 Shell companies to Purti Group. In 2007-08 Reatox Builders & Developers Pvt Ltd puts Rs 25 lakhs into Purti as Unsecured Loans. The same year, Dattatray Mhaiskar of IRB Company gives Rs 31.45 lakhs to Nagpur Based Awani Electrical Pvt Ltd, who in-turn gives Rs 30 lakhs to Update Mercantile. Nitin Gadkari himself gave Rs 20 lakhs to this company of which Rs 10.08 lakhs was routed as Unsecured loan. Same year Update Mercantile invests Rs 1.35 crores as Investment. The same year Reatox Builders & Developers Pvt Ltd got the contract for First City from MADC. In 2007. The Bhoomipoojan was conducted of First City where Nitin Gadkari was the chief Guest.
हिंदी मे न्यूज़ के लिय यहाँ  क्लिक करे 
Click here to Download the Complete Audit Report 
In 2007-2009, when IRB got nearly 5 orders which included Mumbai Pune Express Highway, has given Rs 50 lakhs by Cheque to BJP. Meanwhile,  AAP's District Spokesperson Girish Nandgaonkar also cited previous occasions recalling how various media organizations have exposed Reatox builders and developers was favored by permitting them to sell residential flats in the non-processsing area of Mihan SEZ, meant for the SEZ's workers and employees, to the general public. The manner in which all authorities bent over backwards to facilitate this is already well established, he added. He alleged that the Mihan SEZ project has been promoted by  Gadkari on several occasions in the past. He said the audit report by Chartered Accountants of M/s Update Mercantile Private Ltd Vijay Tiwari specifies Gadkari's motivations for doing so. He also revealed few findings from the said audit report for financial year 2007-08. Interestingly, Update mercantile has also invested Rs. 50,000 into shares of Tirupati Urban Cooperative Bank. AAP further demands that shri Sagar Meghe of the INC, who heads Tirupati Urban should explain the basis on which these shares were allotted to a shell company like Update Mercantile.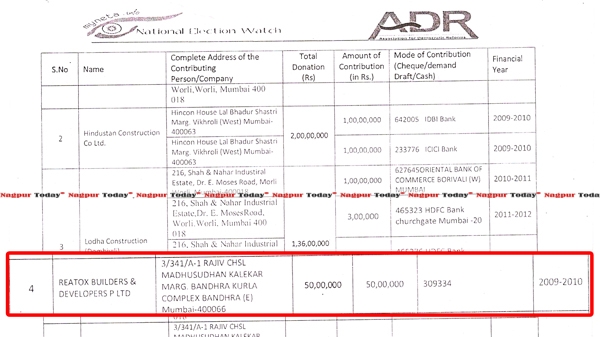 Click here to Download the Complete Audit Report   ( Note : This document has been provided by AAP in Press Release )