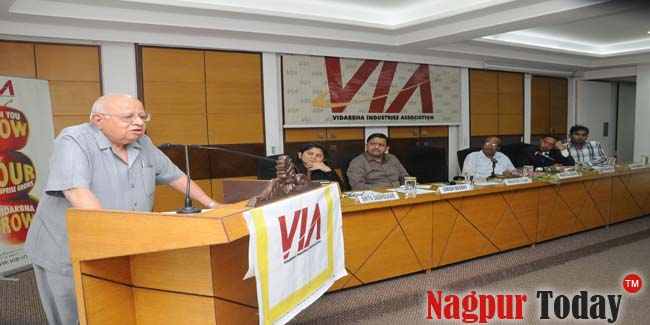 Nagpur News : Hargovindji Bajaj popularly known as Babuji delivered a talk on "Zest for Life" on Tuesday 29th January 2013, at VIA Hall Udyog Bhawan, Civil Lines at 6:15 p.m.
Babuji, shared his personal experiences and also provided useful and fruitful tips to budding Businessman and young Entrepreneurs'.
The programme was organized by VIA HRD Forum. Earlier in this series in HRD Forum Dr. Sudha Sutaria, Sheru Rangnekar, and Dr. Taori had shared their views and experiences. In this programme speakers who are above 70 years and who are still active in their business and profession are sharing their views about success in business which includes their good and bad experiences of life.
Babuji said "Zest signifies keen interest. Whatever you do put your heart and soul into it. Only then will it reach its logical conclusion," Babuji stressed, adding that this should be the case in all walks of one's life. In a talk laced with anecdotes from his own life, Babuji said employment was a burning issue in today's world. "There is a dire need for in housing training facilities in every company. Only then can a clerk dream of rising up the ranks. Growth is important in every sphere of life.
Babuji said, one should work hard till the last and every person should have positive thinking and continuity in their hard work. Similarly loyalty and trust is equally important. Knowledge is everywhere but you need to know and acquire that knowledge. As a businessman or as a person you need to think about the pros and cons of that particular situations and accordingly you should finalize it logically.
Similarly, people should trust you for your work. Plan your daily work and your aim in life with time management. Nothing is permanent in life. You also need to take care of your health. Selfishness and jealousy should not be there in your nature or in your behaviour Plan your target or Aim and the target should be achievable. Enlighten yourself and others by sharing knowledge and skills.
As work is synonymous with wealth, taking his point further, Babuji said that there was a big difference between earning money and minting money. "Money earned is a product of hard work while one mints money by adopting wrong means,"
Summing up his talk, Babuji said age could be broadly classified into three categories: chronological, Biological and psychological. Chronological age is determined by time. Once you are born, the clock of your age starts ticking. You grow older by the day, month, Year. Biological age is the stage you are in your life. A person is in his pink of health when he is may be 25 or 30. While psychological age is the one that determines how well lived the life is, The sounder the person psychologically, the merrier is his life. Then there is Zest in life."
Vijay Phanshikarji, Editor – "The Hitavada" was the special invitee of this programme who summed up the talk said "Babuji is soft spoken and faced numerous impediments in his long business journey conquering some while failing to clear the barriers on other occasions. What standout here is that he was never dishevelled by this play of life. It was just another game for him."
At the Outset, Welcome of Babuji and Vijay Phanshikarji was done by Prafull Doshi, President-VIA, Introduction of Speakers was done by Dr. Smita Dabholkar, Convener – VIA-HRD Forum. Vijay Phanshikarji, Editor – "The Hitavada" summed up the talk and the programme was conducted by Girish Deodhar, Chairman- VIA-HRD Forum.
Different Questions were asked by the Participants and Babuji answered all queries in his impeccable style.
Prominent VIA Members who were present were Pravin Tapadia, IPP, VIA, Atul Pande, Treasurer- VIA, Akash Agrawal, Hon. Secretary, VIA, Vitthaldas Tapadiya, Executive Member, VIA, Anil Chandak, EC Member VIA, Shailesh Suchak, EC Member VIA, Shyam Agrawal, Member VIA , Rajay Surana, EC Member VIA, Other members of VIA and associations, Industrialists, Young Entrepreneurs' & students and large number of general public.
Sitting on the dias from L to R: Smita Dabholkar, Girish Deodhar, Babuji, Prafull Doshi, Vijay Phanshikarji, Akash Agrawal.