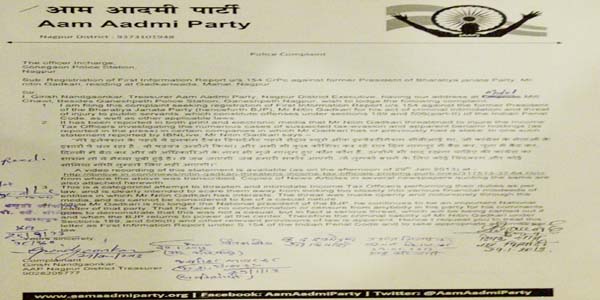 Nagpur News : Aam Aadmi Party has filed a complaint against former BJP president Nitin Gadkari for his remarks on I-T officials, police said today.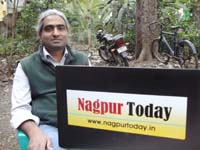 A day after Rajnath Singh replaced him as BJP chief, "free man" Nitin Gadkari on his arrival at Nagpur airport on January 24 had said he was not bound by the dignity of the post any longer and virtually threatened income-tax officials, claiming nobody would save them when BJP came to power at Centre.
While police have accepted the complaint, they will be seeking legal opinion on its validity.
"Since AAP was not a victim of alleged threats, they become a third party in this matter. On Wednesday, we will seek guidance from our legal department if we can act on their complaint," said Tukaram Vahile, the senior police inspector of Sonegaon police station.
Vahile added that even if the complaint can be made official, "only a non-cognizable offence can be registered against Gadkari".
Last week, after being replaced as the party chief following income-tax action against firms linked to Purti Group, a miffed Gadkari had hit out at I-T officials at the city airport soon after his arrival in Nagpur. Speaking to his supporters Gadkari said, "When BJP comes to power at the Centre, we will not spare any of them (I-T officials)."
Girish Nandgaonkar, spokesperson for AAP Nagpur, said, "Gadkari's statements amounted to obstruction of justice and as citizens it is our responsibility to register a complaint. It does not matter if we are directly affected or not, what is important is that government officials were being threatened. If I witness a bank robbery, can I not inform the police? Our party members in Mumbai had also gone to police but were told that the matter came under Nagpur jurisdiction."