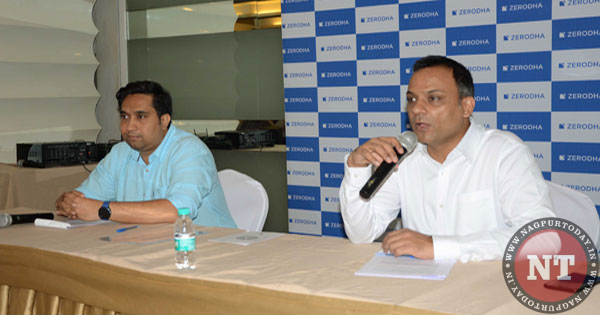 Nagpur: Zerodha, India's leading technology-driven brokerage firm, today announced the launch of its new support centre in the city and shared its overall growth numbers for last financial year.
Zerodha currently has a client user base of over one million across India, and has grown tremendously in the past one year, adding clients at a rate of 210% (FY 17-18).
Speaking more on the development, Karthik Rangappa, VP Research & Educational Services, Zerodha, said, "The year 2017 was quite a year for us as a business. We became the largest retail broker in India by turnover on all the exchanges and segments, biggest in India by monthly new client additions and largest standalone direct mutual fund platform Coin. I am hopeful that with new offerings and also by continuing to wow our existing and new clients, we will be able to grow at a much faster this financial year."
The new support centre is centrally located in Dhantoli locality of Nagpur and will act as an extension of the main operational base in Bengaluru.
Reflecting more on the development, Karthik adds, "To open our support centre in Nagpur is logical from the point of view of its close proximity to Mumbai and being one of the important commercial centres in the state of Maharashtra."
In Maharashtra, Zerodha has offices in Mumbai, Pune, Aurangabad, Thane, Aurangabad, Kolhapur, Solapur and Dhantoli. It has grown at a rate of 234% for (FY 17-18) with a client base of over 306203. Zerodha has 9 branch offices, and 15 partner offices spread across the state. In Nagpur, Zerodha has over 8429 clients with 1 partner office. It has grown at a rate of 248% for FY 17-18.
To manage the growing needs of its clients, Zerodha currently has 25 branches and 96 partner offices in India
Some of the important product offerings –
COIN
Coin India's first direct MF + Equity platform launched by Zerodha in April 2017 let the customer buy mutual funds online, completely commission-free, directly from asset management companies. The mutual fund bought through Coin will be in demat form, with a convenience of one portfolio across equity, mutual fund, currency.
Over the last 16 months, 100,000+ clients have invested over Rs 2000 crores through Coin in direct mutual funds and saved tens of crores in commissions that they would have otherwise paid a regular mutual fund platform.
We have also decided to make Coin completely free, in line with our current brokerage-free plan. All the investments on Coin, irrespective of the invested amount, are now absolutely free with no subscription charges.
http://coin.zerodha.com
About Zerodha
Zerodha is an Indian financial service company (member of NSE, BSE, MCX, MCX-SX) that offers brokerage-free equity investments, retail and institutional broking, currencies and commodities trading, and mutual funds. Founded in 2010, Zerodha is known for its discount pricing model and innovative use of technology.
It is headquartered in Bangalore and has a physical presence in all major Indian cities. As of 2018, it is the largest retail brokerage firm in India with a loyal client base of over one million and contributes up to 10 % of retail trading volumes on Indian stock exchanges.
www.zerodha.com