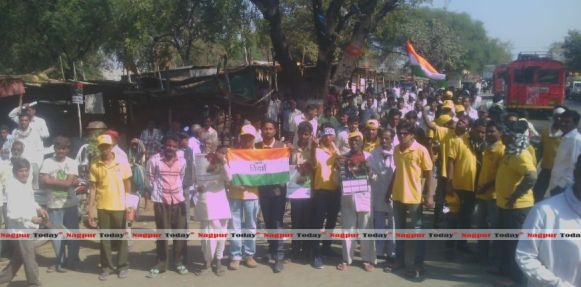 Nagpur News.
On the 14th day of its Vidarbha journey, Yuva Elgar Rally, under the leadership of  Dr Ashish Deshmukh, after starting on February 5 from Nagpur and completing its journey through 11 districts, talukas and villages has come back to Nagpur district.
Today on its journey, the rally received thumping response at Bharsingi to Kalmeshwar. The people raised slogans of 'Vegle Vidarbha Rajya Zalech Pahije' Separate Vidarbha State Must be formed.
After visiting 11 districts of Vidarbha, its Tehsils, towns and villages, on day 6 Elgar Rally entered Amaravati district. The route of the rally was Pulgaon, Borgaon, Sawajana, Kasarkhed, Bhatukli, Ledkanpur, Usangaon, Durggaon and via Talegaon it reached Chandur Railway.  In whole of the Wardha district people gave thumping backing to Dr Ashish Deshmukh and his demand for separate Vidarbha state. At every place Dr Deshmukh made his stand clear and instantly established rapport with the people. People again and again raised Vidarbh Rajya Lekar Rahenge slogans. Injustice done to Vidarbha and advantages of separate Vidabha state was the theme of the film, rally members screened at various places.
Total of 32,000 suicides of farmers from Vidarbha due to the backlog, lack of agro processing units, long pending MIHAN project,  out flux of educated people due to lack of opportunities, Naxalism, malnutrition and other such relevant issues are part of the film. Dr Deshmukh said only separate Vidarbha state can bring progress, development and prosperity to the region.
Though the Telangana issue was not put before Andhra Pradesh State Assembly still there are efforts to pass it in the Parliament.  At this time separate Vidarbha issue should also be put before Parliament.Dr Deshmukh said he will not rest till formation of separate Vidarbha state. It is pertinent to note that the rally was flagged off by BJP MLA, Devendra Phadanvis, indicating BJP's support for this demand.
The prime feature of the 14th day was its journey from Paradsinga, Katol, Sawali, Mendhepathar, Metpanjara, Tarabodi, Chargaon, Dorli, Kohli, Susundri, Mohapa, Ubali and then it reaching Kalmeshwar.