Youth who tried to snatch gold chain instead lands in custody after thrashing from people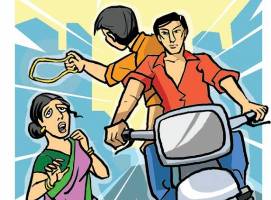 Nagpur News: The spate of chain snatching incidents, it appears, have become a child's play now-a-days. In an incident a youth entered in a house on the pretext of electric meter reading. But soon after realizing that only a woman was present in the house the youth snatched the gold chain from the woman. But the woman shouted for help. However, the youth whipped out a knife and started threatening the woman. But her shouts alerted the nearby people and they rushed to help the woman. They succeeded in nabbing the youth and after thrashing him black and blue, the youth was handed over to police.
The youth was identified as Dikesh Omkar Pawar, a resident of Ajni Railway Quarters. According to police sources, Dikesh entered the house of Amrutvarsha Virenkumar Bharti around 12.30 pm on the pretext of power meter reading. He asked Amrutvarsha, who was alone in the house, a glass of water. The youth swiftly grabbed the gold chain worn by Amrutvarsha and tried to flee. But people foiled his attempt and the youth now is cooling his heels in police custody.