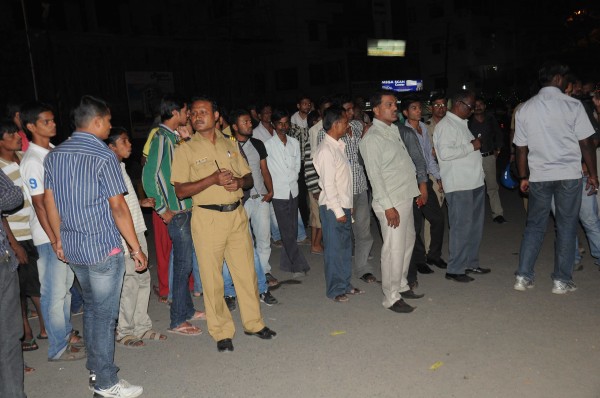 Nagpur News: Imambada police is still groping in the dark regarding the two bike riders who shot a youth Roshan Gyaneshwar Samreet, 23, dead over opposing eve-teasing of the girl who happens to be his friend. Meanwhile, Nandanvan police have registered case against three accused in a separate incident of firing on patroling police team. After the two back to back incidents, the cops are on their heels and have launched massive blockades at various sensitive points in Nagpur.
DCP Zone-IV, Meena under whose charge the area falls has gone on a leave for a full fortnight.
Talking to Nagpur Today over phone, Meena said that he would not be able to comment on the course of action as he is on leave. When asked that the additional charge of traffic upon him has accumulated extra work load on him, he denied any such reason behind the rising crime under his areas. He said, "the perpetrators of such crimes come from different zones and hence such crimes could not be linked to any particular zone."
Roshan, an engineering student, was shot dead by two assailants who were riding pulsar bike on Wednesday evening. It is learnt that Roshan was called up on the spot by his girlfriend who informed him that two goons were following her on a bike and forcing her to lend her mobile number. When Roshan rushed to intervene, he got into heated verbal exchange with the duo. Raged over the objection, one of them shot Roshan and both fled the scene. Roshan fell and lied in a pool of blood. He was admitted to Medical hospital where he succumbed to his injuries. Imambada police have registered the murder case on the complaint of Roshan's cousin Sumit Bele. The assailants were still beyond the trace.
Police hunt for Raja Gaus Gang
Meanwhile, in the incident of firing on police party at Jagnade Square on Wednesday itself, police have launched hunt for the members of notorious Raja Gaus Gang which police suspect could be behind the attack. The members of this gang had also reportedly wielded a gun on petrol pump vendor on Gangabai ghat square and forced him for free refill. Then they also looted a motorbike near Nandanvan slums on the gun point. Raja Gaus Gang is reportedly involved in arms smuggling in the city. The head of this gang Raja Gaus and his accomplices Moin Ansari and Pili Nadi resident Manzri have allegedly fired on four policemen around midnight on Wednesday . As the news spread, Police Chief KK Pathak reached the spot along with other police officials. Raja Gaus and his aides were reportedly riding triple seat on a two-wheeler when they were being stopped by constable Battulal Pande who was patrolling along with his colleagues. All the three then started random firing upon the cops who suffered minor injuries. Raja Gaus and his two other aides have been absconding since the incident.
Blockade at several places
After both the incidents of shootout at Untkhana Square and Jagnade Square, city police have raised blockades at various squares within the city. Armed police jawans have been deputed on the city borders. The vehicles moving in and out of Nagpur are being extensively searched. The cops have ordered to follow quick action on any suspicious person.