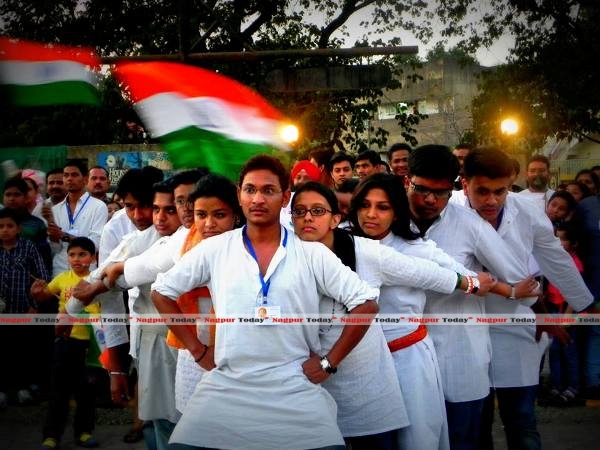 Nagpur News.
The year 2014 has already witnessed grand political transformations, with a few psychological transformations as well. However, a psychological transformation as well has been generated among the citizens of Nagpur towards the nation!
A young and energetic group of youngsters named 'Jagrut Indians' have successfully contributed towards the same. Spread their message in the form of a flash mob and a street play at three different locations in the city, the youthful group inspired many.
The campaign led by this group was named as 'Jhanda Uncha Rahe Humara'. The campaign started at 11.30 am at Samvidhan Square where the street play was performed. Then campaign shifted to the most crowded place of the city, Futala lake, at around 4.30 pm. After spreading the message in a unique manner at Futala Lake the group proceeded towards Traffic Park at 5.30 pm.
The crowd witnessed the energy, dedication and patriotism of the group and gave an overwhelming response. The teammates of Jagrut Indians quoted, "Hope our hard work to generate a spark and awareness about the fundamental duties of the citizens can change or improve the minds of common people."