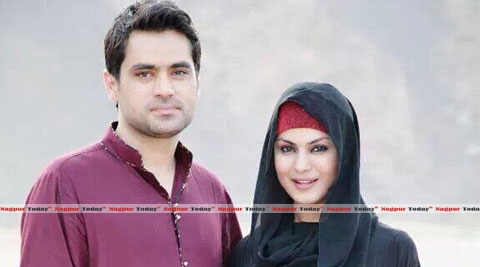 The Pakistani actress cum seductress has finally called it a day in Bollywood as she cited frequent religious discourse had changed her way of life completely. She announced that she is quitting commercial films and will only take part in projects with religious and social messages as an Islamic cleric has changed her life completely.
"I have quit the show-biz industry. From now onwards, I will not perform in Pakistani and Indian movies and plays," said the 29-year-old actress who created a storm by posing topless for an Indian magazine.
"I am also going to refuse Indian film producers with whom I had agreed to work in their movies," she said in an interview to a Pakistani journalist in Saudi Arabia, where she had gone to perform 'Umrah' with her Dubai-based husband Asad Bashir Khan Khattak and his family.
Malik said she would continue to "engage in any project which aims for welfare or social development" but would not be part of any new films.
She said religious scholar Maulana Tariq Jameel had changed her life completely. "Maulana sahib made me promise not to take off my dupatta (head scarf). And I will fulfill this promise for the rest of my life," she said. Malik said well-wishers from across the globe, including Indians and Pakistanis, have been congratulating her and Khattak on her decision.
"Veena is in talks with the management of two news channels for the morning talk show," the source said. Malik married Pakistani businessman-cum-singer Khattak in Dubai last year.