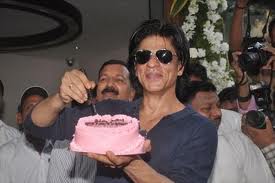 Nagpur Today B'day Special : 2nd November-Its Bollywood Baadshah's birthday today. Yes, we are talking about none other than Shahrukh Khan, the most Known, loved and envied actor in Bollywood. SRK turned 47 today.
Shahrukh Khan is also known as the 'Badshah of Bollywood'. And if you are one of those hardcore Shahrukh Khan fans who stops surfing TV channels whenever he appears onscreen and listens to his interviews with rapt attention, you must have noticed that the actor has the habit contradicting him at every given point- and we find that very endearing.
Substantiating our opinions, the actor himself said in an interview that 'We aren't human if we don't contradict ourselves'
His first name "Shahrukh" means "face of the king" and he has proved it as he is called King of Bollywood. He has acted in over 70 Hindi films. He won 14 Filmfare Awards from 30 nominations.
He won eight Filmfare Best Actor Award, which makes him the most awarded actor of all time (in that category and after Dilip Kumar). Government of India honoured him with Padma Shri in 2005 for his outstanding contribution in Indian Cinema. He is also the third leading Indian actor to have his Wax statue at world famous Madame Tussauds Museum.
Shahrukh is a 'Handsome, Romantic and Dynamic Actor', 'Smart Businessman', last but not the least 'A Perfect Entertainer'. With all these qualities and more,
SRK is still ruling the industry.
He is and will be 'the real KING' everywhere.
We Nagpur Today Team wish the KING KHAN a Very Happy Birthday.
Suhani Vanjani