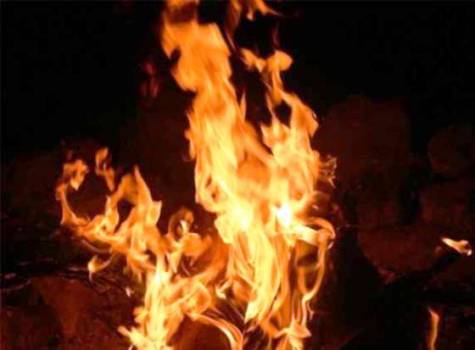 Nagpur News: A woman set herself ablaze with her eight-year-old son at her rented residence at Shailesh Nagar on Wathoda ring road on Friday. Police has found a suicide note in which the woman mentioned that no one is responsible for her death. However, cops suspect foul play in the suicide note claiming that writing doesn't match with the deceased.
The incident came to light around 8 am when the auto rickshaw driver had came to pick Swayam Katole, a second standard student, for his school. His mother, NIsha was found in immolated condition on the bed while Swayam was found near to her. Both were found lifeless.
Nandanwan police, investigating the case, said that Nisha might have set herself ablaze in the wee hours. Nisha's husband, Manoj was at Amravati for his SRPF training. He was selected for the training just nine months before. He was undergoing training since last seven months.
The couple was staying at a rented room  on the third floor at Datta Barde's house from last two years. Manoj, an ex-army man had left his job few years ago and had shifted to Nagpur from their native place, Katol.
The landlord Barde informed that Manoj's grandmother had expired on Tuesday. Hence, Nisha with Swayam had left to Katol from here while Manoj came directly from Amravati. The couple returned on Wednesday morning and Manoj left for Amravati on the same evening.
Police said that it was learnt from the training centre that Manoj is on leave from last two days from the training. Cops suspect foul play in the suicide pact. Police have informed Manoj about the incident and asked him to immediately reach the spot. However, he has been dilly-dallying the cop's call. Despite five hours of the incident, he has not reached the spot.
Interestingly, the suicide note was found in the kitchen while the bodies were found in their bedroom. It was doubtful as the gas cylinder was in the bedroom despite of kitchen room. The landlady Kalpana told that NIsha would always cook in Kitchen and not in the bedroom.