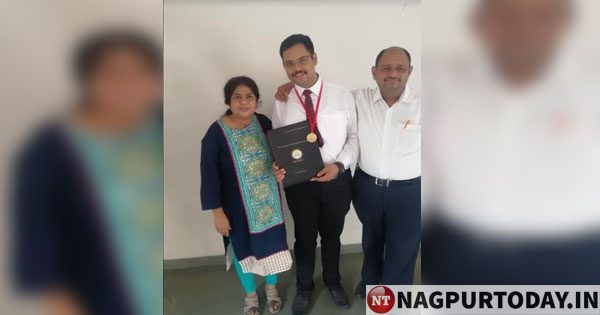 Nagpur: City lad Yash Thakur made Nagpur proud by bagging the gold medal for Best All-Round Performance.
Talking to Nagpur Today, Yash said, he was the youngest student in his batch. Initially, things were bit difficult for him as he was the only fresher. Rest of the students had some experience of working with the industry. However, soon he picked up and got along with the other students.
Says Yash, a resident of Aath Rasta Square, Laxminagar, "It is the IIM curriculum that helped me. The intangible skills that teach you to gel with people from different background, different cultures, different languages and deliver the desired results in the given time. This ultimately proved a boon for me."
Yash, who completed his graduation in Chemical Engineering from Laxminarayan Institute of Technology (LIT) in 2017 has got placement as Analyst with Aspect Ration Data, Pune.
His proud father Pramod Thakur said "Yash was an intelligent and bright student right from the childhood." When asked as to what did he want his son to be, the senior Thakur, who is Chief Manager with Union Bank of India, Nagpur replied, never did he boast his ambition on his child. It was Yash's dream to be an engineer and he got the degree.
Yash, whose mother is a homemaker, completed his schooling from VT Convent, Pratap Nagar and scored over 90 per cent marks in SSC. He then took admission in Shivaji Science College and scored over 80 per cent marks in the HSC examination. He says, the IIM degree would certainly help him in his career ahead.