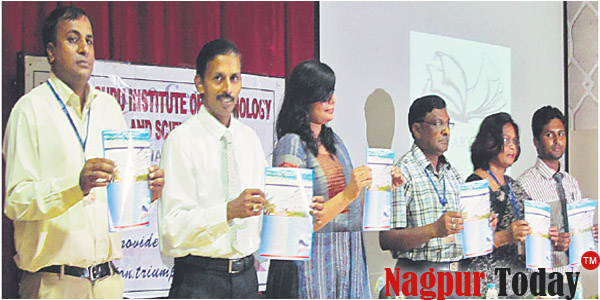 Nagpur News: With the club's inauguration function on Friday, the members of Literary Club, KITS, Ramtek tasted success and their months of hardwork paid off.
The stage was set for the release of college newsletter, XPRESSIONS on which the members of the club had been working on for quite a while.
The event kicked off on with the principal of the college Dr P Bhaskar, accompanied with the chief guest, feature editor of Dainik Bhaskar, Vandana Soni lighting the lamp. Seated on the dais were various dignitaries including dean of student activities Capt PM Randiwe, principal Dr P Bhaskar, Vandana Soni, editorial incharge Pratibha Mahto, staff in-charge of the club Ranjish Thul and president of the LC Divya Prakash.
The audience, including all the club members, were quiet moved by the delightful thoughts and inspirational words of the guests and the principal.
XPRESSIONS , wrapped in a ribbon, was released by the chief guest.
The club showed the list of events which it plans to organise in the coming two semesters.
Members of club included Pooja Mudliyar, Kanika Chitnavis, P Megha, Amit Rahangdale, Vinay Reddy, Gaurav Guha, Akshay Gedam, Siddaradth V, Gulshankumar Wankar, Jhanvi Uday, Aradhana Gautam, Meenakshi Bhende, Shahzin Fatmi, Vandna Gantalu, R Srikar Vishnu, Pooja Tidke, Anshuman A Jha, Vikas Tiwari, Komal Wankhede, Gaurav Verma, Preeti Kumari, R Shravan, Kritanshu Srivastava.
The vote of thanks was presented by club's secretary, Tanaya Roy Choudhary.