Ramashram Spiritualistic meeting (Satsang) begins.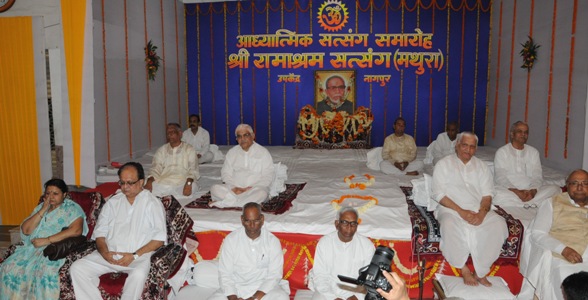 Nagpur Today.
One can attain happiness and peace of mind only after coming under the protection of a powerful and wise teacher. A wise teacher is equivalent to Hari (God). One can attain godliness only by coming into the fellowship of a wise teacher. Even the Vedas quotes that by following a path of praise, worship and prayers can man reach the country and get a glimpse of true, still and delightful form of Brahma the creator. In every spiritualistic deed, the role and place of the wise teacher is of vital and worthy of worship. The people who place wise teacher on priority or top position, they cover the path of years in a few months. This is possible because they have the blessings and power of their wise teacher.
This was said by Saint Prabhudayal Sharma and Krishnakant Sharma from Ramashram Satsang (Mathura) in a spiritualistic meeting (Satsang) taking place in Shri Jain Swethambar, Terapanthi Anuvrath Bhavan in Hiwri Nagar. The programme was chaired by His Holiness Dr Chaturbhuj Sahayji's son Alokkumar.
He said that without worship, praying to god is like shooting an arrow in the air. This neither causes any positive effect nor is it beneficial to any one. Prayers along along with worship are certainly heard. One can attain salvation only when spirituality and meditation is hewn into one's day to day life.
The spiritual meeting which will last till October 21 will last from 9 am to 11am and in the evening from 7pm to 9:30pm.
Ramswaroop Agrawal, Tulsiram Agrawal, Pankajkumar Kushwaha, Manoj Khare and P G Ghate were the chief organizers.