Theme for 2009-2013: 'Diabetes Education and Prevention'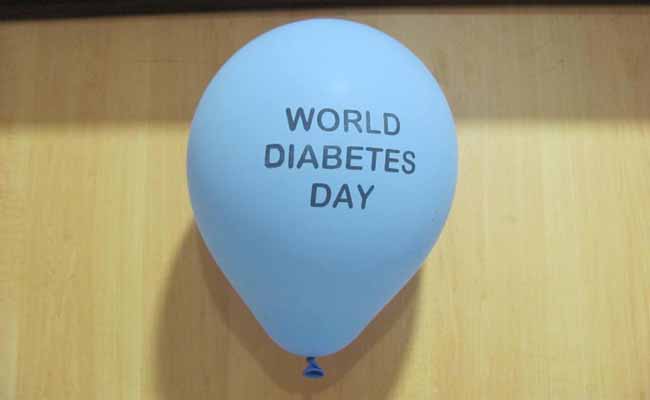 Nagpur News : 'Diabetes Education and Prevention' is the theme for World Diabetes Day for the period 2009-2013. World Diabetes Day (WDD) is celebrated every year on November 14. The World Diabetes Day campaign is led by the International Diabetes Federation (IDF) and its member Associations. It engages millions of people worldwide in diabetes advocacy and awareness.
World Diabetes Day is a campaign that features a new theme chosen by the International Diabetes Federation each year to address issues facing the global diabetes community.
Diabetes affects blood glucose levels. Most of the food we eat is turned into glucose or sugar for our bodies to use for energy. The pancreas, an organ that lies near the stomach, makes a hormone called insulin to help glucose get into the cells of our bodies. In diabetic condition, the body either doesn't make enough insulin or can't use its own insulin as well as it should. This causes sugar level to build up increasing the blood glucose level and disturb the metabolic functions of vital organs in the body. If left untreated, diabetes can cause serious health complications including heart disease, blindness, and kidney failure and lower-extremity amputations.
On the occasion of World Diabetes day, Nagpur Today had talks with various leading Diabetologists in the city, eminent Diabeticians, Dr. Shailesh Pitale and Dr. Sharad Pendsey about various pressing issues of diabetics among Children and Adults.
Healthy Lifestyle is vital for prevention of Diabetes: Dr Pitale
Consultant Endocrinologist and Diabetician Shailesh Pitale said that awareness and prevention are the two important aspects to prevent diabetics. One should be bothered about the problems before it starts to show its ugly head. Indians are at high risk to get affected by diabetics because of the fast paced modern life style, obesity and poor eating habits. He added that recently studies show that many children between the age group of 15-20 years suffer from Type 1 diabetes which is an insulin-dependent diabetic and requires insulin to treat, is typically developed as a child or young adult and is a disease that destroys pancreatic cells meaning no insulin production is possible. The symptoms include high levels of sugar in the blood and urine, frequent urination, hunger, thirst, weight loss, weakness, tiredness, mood swings, nausea and vomiting.
The children suffering from this type are dependent on insulin's, 3-4 injections every day and for the rest of their lives.
Dr Pitale added that Type 2 diabetes which is non-insulin dependent diabetes is considerably more common and typically affects people above the age of 45, who are also overweight. Those suffering from Type 2 are unable to produce enough insulin and sugar builds up in the bloodstream. The symptoms include thirst and regular need to urinate, tiredness, irritability and nausea. Skin infections, blurry vision, tingling or dry skin are also common symptoms.
He said that the onus of eating healthy food lies on children's parents. Parents should become the role models for their children which in turn provoke children to learn healthy habits from their parents. Schools also must provide open grounds facilities and encourage sports activities in their schools and the must ensure that they serve healthy food in their school canteens.
Eat-less, Walk more, Squeeze time for a walking:Dr Sharad Pendse 
Other prominent Diabetician Dr. Sharad Pendsey said that India and China are the two leading countries, competing for 1st position in diabetics. India has 6.1, crore millions populace who are suffering from diabetics.
He said that apart from modern lifestyle, three major factors like Urbanization, Industrialization and increased Automation results in diabetics for last 30 years. Since last 20 years, food habits have dramatically changed as traditional food is getting replaced by junk and oily food. More luxurious life, less exercise and awful eating habits results in obesity which again leads to diabetics.
He added that 99% of diabetic patients suffer just because of lack of exercise, obesity and stress. Children are also becoming more obese because of eating junk food, no physical exercises, and lack of outdoor games.
Stress is also one of the most important factors in diabetics and it results in an increase in blood pressure level of the body. He added that from last 4-5 years Type-2 diabetics is seen even among children. This can lead to conditions where, in future risk of paralysis, heart attack and blindness can occur
He said that some precautions must be taken to prevent further problems in diabetics: Since it is very difficult to change one's lifestyle at this stage, yet if schools include the topic of a Diabetic Education in their curriculum, it may prevent future generations from the ailment of Diabetes. The need for Physical education, sports, healthy and nutritious food consumption should be some of the guidelines of one's life to prevent diabetes in the future.
LIFESTYLE- There are roles for patient education, dietetic support, and sensible exercise, with the goal of keeping both short-term and long-term blood glucose levels within acceptable bounds. In addition, given the associated higher risks of cardiovascular disease, lifestyle modifications are recommended to control blood pressure.
MEDICATION- Medication should be taken on time i.e. Regular checkups should be done and if the disease is detected it should be treated and taken care of in the best way it can. So, don't let the "Silent killer" kill you, Prevent or cure before it eats you up.
:::  Pallavi Madke