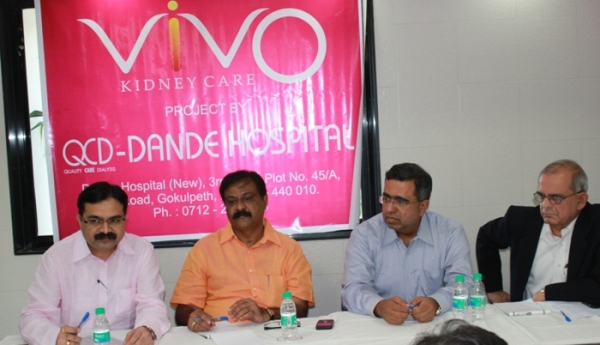 Nagpur News:
Vivo Kidney care is part of the QCD, multi-national corporation headquartered in USA and is engaged in bringing world class quality Kidney care to the Indian patient population by setting up premium dialysis centers, education programs for nurses and technicians and building patient awareness.
The founders are professionals in healthcare and IT services in USA. They are backed up by eminent nephrologists in USA, to bring best practices in renal management in terms of safety and infection control practices and trained staff.
While speaking with the media in a press in a conference Mr Ramesh Krishnan said, "our vision is to make the city of Nagpur the best Kidney Care Center in whole of Central India for patients needing US type of medical care. In addition, we will be creating employment in large numbers for the chain of kidney care centers and also providing skill enhancements to non-graduates and secondary grade students in making them employable nationally and internationally in dialysis centers".
Dr Pinak Dande informed about the first patient of Vivo Kidney Care named Swapnil who has been dialyzing 3 times a week and has shown good clinical progress . he has moved from being a weak and less energetic patient to a high energy patient who now cycles to dialysis center for receiving his treatment.
He further added that vivo kidney care is joint venture and a pilot project which will provide quality services at affordable price. Kidney dialysis is an alternative for kidney transplant, wherein getting organ donor is very tough task and medical expenses for the same is costly too.
Suresh Vasu, CMD QCD, Dr Pinak Dande, Ramesh Krishnan and Bhaskar Londhe were prominently present in the Press brief.