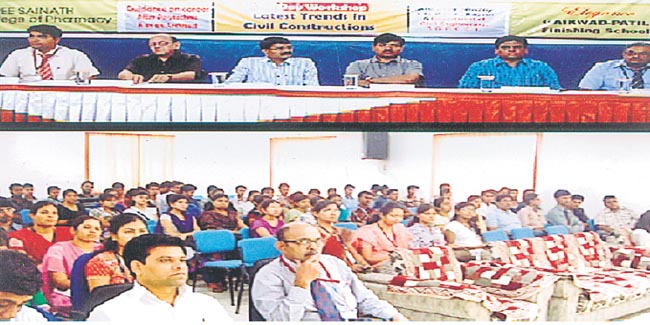 Nagpur News: A one-day workshop was arranged in Tulsiramji Gaikwad-Patil College of engineering and technology on 'latest trends in civil construction technology or architecture' recently.
During his inaugural key note speech, renowned structural designer and consultant PSPatankar introduced latest machineries used globally in construction works, which not only works fast but also overcomes the problem of labour.
Chairman of Gaikwad-Patil group Prof Mohan Gaikwad, president of GPgroup of institutions Prof Sharad Patil, principal of TGPCET Dr GKAwari, principal of TGPCA Prof Sandeep Gaikwad, HODof civil engineering deparment Prof MBKhamgaonkar were present on the occasion.
Prof Galande explained the latest trends in materials, and equipment tecnology. And gave details about green material, excavation protection and new technologies the help of videos. Pravesh Padmavar gave presentation from HILTI and showed the equipments which can be used for the contruction and demonstrated practical application of some gadgets. Students of various polytecnic colleges from Wardha, Arvi and Nagpur attended the workshop. The programme was organised by the civil engineering department and conducted by Prof Amit Dongare. Prof Sanjay Bhadke, Prof RVishwakarma, Prof S Goswami, Prof K Raut, Prof Neha Mogre worked hard to make this programme a success.