Nagpur News: Dr Prakash Murlidhar Amte a Padmashree Awardee in 2002 and co-awardees (with his wife) of Magsaysay award in 2008 said that Diabetes is an ailment of urban dwellers. The villagers or the tribal among whom he works never get diabetes. The reason he expounded by saying that they walk 40 kilometers everyday out of compulsion to and fro work (since no vehicle is available), they eat   only dry chappatis with piece of onion or sabji. However even he added that Education did play a vital role in the life of a human being. He said that the role played by Diabetes Educators is very vital and has to be performed with zeal and dedication.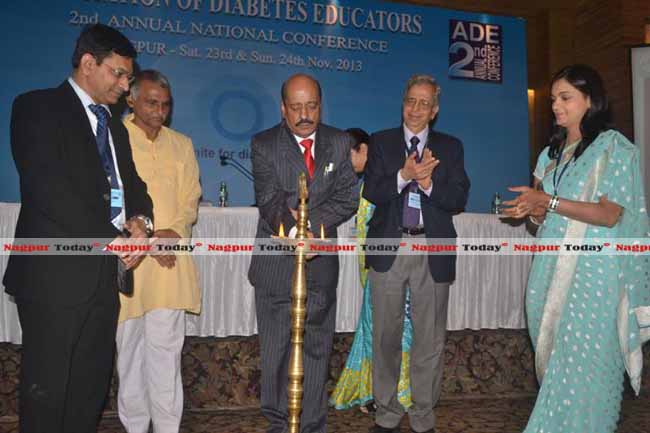 Dr Prakash Amte was speaking as the Chief Guest at the formal inauguration of the 2nd Annual National Conference of Association of Diabetes Educators 2013 at Hotel Centre Point recently.
Earlier the Chief Advisor of Datta Meghe Institute of Medical Sciences Dr Ved Prakash Mishra in his address as guest of honour said that he would like to thank Diabetics Educators like Dr Sunil Gupta for the wonderful work that they are doing since he himself is a diabetic. He said that it is imperative that the Education part has be given importance. Contemplation of the actual situation of what is needed and how best it can be achieved is what is needed. He added that we should contemplate the role and relevance and need to articulate the importance of such educators. Dr Ved Prakash added that Diabetes Educators can reach diabetes patients faster than dialectologists. He said that the way the Diabetes Educators reach out and communicate to the patients telling them how best they can live happily, healthily by disciplined life and using other means of sweetening their life.
Chairman of ADE Dr H M Chandaliya was the guest the honour. The Organising Chairman and reputed Diabetologist Dr Sunil Gupta and Organising Secretary Kavita Gupta shared the dais.
Organising Chairman Dr Sunil Gupta made the introductory remarks and thanked his team and each and everybody who helped make this event very successful.
A CD with the message of Former BJP chief Nitin Gadkari was played on the occasion where Gadkari said that it was only because of people like Dr Sunil Gupta that he is dealing with Diabetes successfully. He said that he was once an insulin dependent patient but not anymore. All this because of serious disciple, regular regimen and diet, exercise and walks. He said that Print and Electronic media plays a vital role in educating people about diabetes which should be used to the maximum so that newer generations don't become addicted to it. He lauded the efforts of Dr Sunil Gupta and his team for his excellent work.
Earlier there was a prize distribution for the Desert Competition and Essay Competition. A Journal of Diabetes Education was also released on the occasion.
Dr Sarita Ugemuge compered the programme.