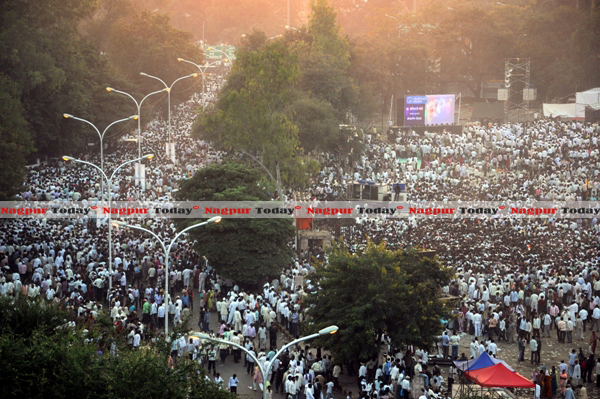 Nagpur News.
The gigantic turnout at recently held public rally of Congress President Sonia Gandhi at Kasturchand Park in Nagpur has left the political thinkers to sit back and reframe their poll equations. While the party leaders are in high spirits over the astounding figures of people at the meeting, there has been quite a discomfort among the BJP cadres. Sources said the massive turnout from across the region has certainly upset BJP's ambitions of reaping rich on anti-incumbency factor.
The Congress did not miss the opportunity to show-off its strength during the dedication of Rajiv Gandhi Jeevandayi Arogya Yojana. And the party succeeded in achieving this feat as close to 2 lakhs of people appeared at the rally. Learning from the past mistakes, interestingly, this time the Congress leaders showed an unprecedented unity and ensured grand success of the programme. Half of the Cabinet Ministers attended the programme apart from former ministers, MPs, MLAs, and other leaders from entire Vidarbha.
Now it's Modi's turn
The BJP Prime Ministerial candidate Narendra Modi's meeting has been organized in Mumbai on December 22. This rally will have to bring in more number of people as compared to Sonia's Nagpur rally, given the population of Mumbai. This will be the true ground for the party to test its strength. BJP leaders have started making claims over this to be organized rally. "The meeting will be attended by more people than the meeting of Sonia Gandhi. There is no question that the party has been rattled by the massive attendance of people to Sonia Gandhi's meeting. The Congress leaders make arrangements for bringing people and workers to their programmes. People and our workers attend on their own. Therefore, Modi's meeting will be attended by more people than Sonia Gandhi's meeting," claimed BJP leaders.
Credit war begins
On the hind side, the credit game has now begun among the Congress with every leader trying to grab onus for the grand success of Sonia Gandhi's programme. One leader claimed that 1600 buses were brought from across Vidarbha. The target for city was put at 50000 and the City Congress President Jaiprakash Gupta and his team worked hard for the target. He received support and help from Vilas Muttemwar, Nitin Raut and other leaders. The target was achieved, claimed the leaders.
Confusion over numbers!
The Congress leaders are also resorting to claims over the figure of attendance in the meeting. Guardian Minister Shivajirao Moghe claimed 2.5 lakh people attended the programme and Vilas Muttemwar claimed 4 lakh people were present at the meeting. Thousands more could not attend following traffic jams, claimed the leaders.