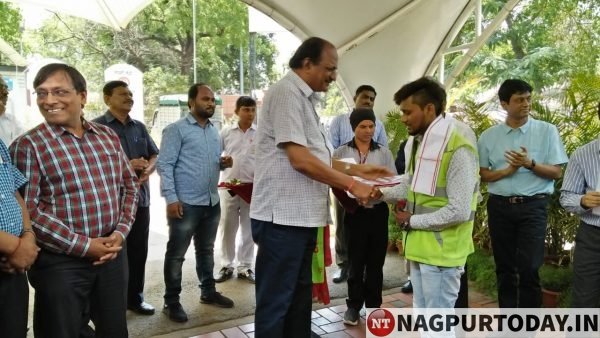 Nagpur: Maha Metro Nagpur celebrated International Workers' Day and Maharashtra Day on Wednesday. At a function held at Metro House, the Managing Director Dr Brujesh Dixit congratulated and felicitated the workers for success of Nagpur Metro. "The real architects of Nagpur Metro success are the dedicated force of workers and their hard work," Dr Dixit said.
To mark the occasion, a special ride of Nagpur Metro was conducted from Sitabuldi Interchange Station to Khapri Station for the workers. Maha Metro officials welcomed the workers with floral bouquets and distributed sweets to them. The joy of first ride in the Metro was clearly seen on faces of around 200 workers who thoroughly enjoyed the chugging of Majhi Metro. Later at a function organised at Metro House, workers who did excellent job in the year 2018-19, were felicitated.
Those who were felicitated include Reach-1's Sanju Kumar, Vinod Shendre. Sanket Nagdavne, Mangesh Surankar, Akash Khandekar, Reach-2's K Keliyan Murmu, Hemant Soren, Duryodhan Sardar, Ranjit Yadav, Chandan Rikshayan, Reach-3's Shubham Gupta, Sachin Banderbawne, Sukhen Ghosh, Dhananjay Kumar, Vikas Kumar, Reach-4's Akhilesh Kumar, Manoj Kumar, Vikas Singh, Anil Kumar Yadav, Deepak Sharma, and Sheikh Inamur Rehman.
Apart from the Managing Director Dr Dixit, other officials who attended the function include Director (Project) Mahesh Kumar, Director (Finance) S Shivmathan, Executive Director (Reach-1) Devendra Ramtekkar, Executive Director (Reach-3) Arun Kumar, General Manager (Administration) Anil Kokate and others.