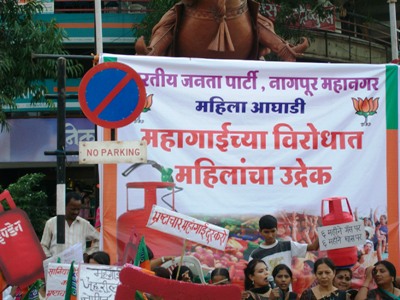 The women Wing of the BJP carried out a huge protest against the Congress Government with regard to the increase of prices of cylinders and the dissatisfaction towards giving only 6 cylinders instead of 7.
This particular protest was met by a large number of women from every walk of life. The protest started at 3.30 and carried out till 5 pm. The slogans made the protest even better as every slogan had its share of dig towards the government and mainly towards Sonia Gandhi.
Slogans like Khali thali khali peth wah re Sonia tere khel, agar bhrastchar ko hatana hai toh congress sarkar ko girana hai and many more.
Finally the women wing members together said that if Gandhiji was alive he would be crying today because of the way the government is making the prices of cylinders and various other things. They further added that nowadays when they go to the market firstly when they ask for anything they get a shock as to how much the prices have gone up and that is a concern for every women in the country.
They said that the government is totally corrupt and something has to be done quickly otherwise life will become impossible to live and people will be at starving point.
The protest witnessed heavy security but eventually was carried out in a peaceful manner. The main person behind the protest was MLA Krishna Kopde who guidance and help made this event possible as being told to Nagpur today by the Women wing of the BJP. Dr. Kirtida Ajmera, BJP City President, Krishna Khopde, Mayor Anil Sole, State General Secretary, Devendra Fadnavis, Vikas Kumbhare, Spokesperson Girish Vyas, Ex-Mayors Archana Dehankar, Dr Kalpana Pande, Sumitra Lule, Jaitunbi Patel, Kanta Kalbhor, Ashwini Jichkar, Usha Palot, Nanda Jichkar, Neeta Thakre, Kanta Kaware, MeenaPathe, Prabha Jagnade, Rashmi Fadnavis, Savita Kale, Sudha Damle, Chhaya Gade, Usha Bohre BJP corporators, office-bearers and other took part in the agitation.
By Marcelo Azavedo