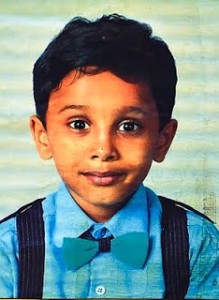 When Ayush Pugalia came to the shop, the T-shirt he wore had blood stains, deposed an employee of the auto parts shop belonging to the Pugalias. Raja Naukhelal Gaur the employee also identified Ayush Pugalia and his two brothers in the jam packed court of Additional District and Sessions Judge G J Akarte.
Bajeria resident Gaur was an employee of the auto parts shop belonging to Naveen and Nitin Pugalia named Mangalam Agency. Another employee Ravi Sawarkar also worked there at the time of the murder, Gaur said. Recalling the sequence of incidents on October 11, 2011, Gaur told the court that Navin, Nitin and Ayush had opened the shop at about 10 am. He was also present there at that time. Ravi Sawarkar had come to the shop before me in Ayush's vehicle, Gaur said. He further stated, "at about 12 noon Ayush left the shop in his vehicle MH/31/BV/2354. At about 5.15 pm Navin received a call from Ayush. He told his brother that he had met with an accident and asked him to send for a set of fresh clothing for him to the shop. Gaur said that he was standing beside Naveen when he received Ayush's call. Naveen then asked Ravi to get Ayush's clothes from the Pugalia residence. Some time later Ayush came into the shop. He was wearing a sky blue colour T-shirt and blue colour pant. Ayush's T-shirt had clear stains of blood near his chest, Gaur told the court.
Ravi went to the Pugalia residence in Naveen's vehicle and brought the clothes. Ayush changed his clothes behind a partition in the shop. Later Naveen, Nitin and Ayush spoke for about 15 minutes behind the partition.
The defence counsel also cross examined Gaur during the hearing. In response to Adv R K Tiwari's query Gaur said, it is not true that he was sitting out of the shop from 4 to 7 pm.