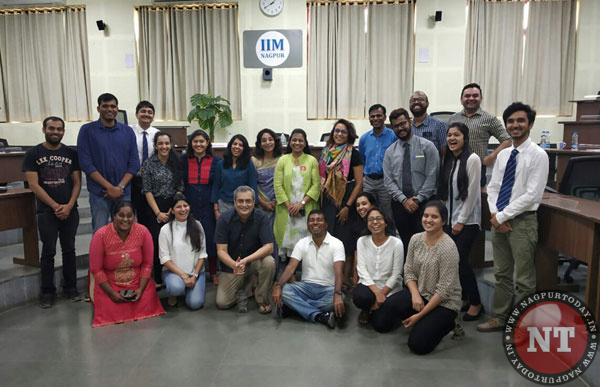 The 10 women incubatees, who are a part of IIM Nagpur's Women Startup Programme 2018, appeared quite confident and poised while talking about their ventures. These aspiring women entrepreneurs have given up lucrative careers and are working on systematically thinking through their startup concepts.
On Saturday, September 29, the women incubatees being mentored by Indian Institute of Management (IIM) Nagpur were in the city for a 'Quarterly Review and Pitching Event'.
IIM Nagpur is incubating women entrepreneurs as part of the Women Startup Programme (WSP), under its Centre for Entrepreneurship. WSP is being conducted in collaboration with NSRCEL, IIM Bangalore, and supported by Department of Science and Technology (DST) and Goldman Sachs. The programme helps women develop entrepreneurial skill sets to start and grow their venture.
IIM Nagpur is currently incubating women entrepreneurs working in different sectors including adventure sports, astronomy education, textile design, customized pet foods, food search, finance, health & sanitation among others. The ten participants are provided with mentoring, customized training, consulting, access to entrepreneurial network and a monthly stipend of INR 30,000/-.
Moreover, IIM Nagpur has arranged best in class infrastructure for 5 incubatees in Mumbai, 2 incubatees in Pune, and 3 incubatees in Nagpur.
According to Prof Saroj Kumar Pani, Chairperson – Centre for Entrepreneurship, IIM Nagpur, "Two things are important for successful entrepreneurship — enthusiasm and capability. And the incubatees here at IIM Nagpur have both the willingness and the passion. Our work as mentors is to focus on helping every venture and supporting them in decision making and taking the next logical step."
Prof Thiagu Ranganathan, Faculty Coordinator – WSP, IIM Nagpur, said, "WSP is an initiative designed to motivate ambitious women entrepreneurs. IIM Nagpur is keen on facilitating the growth of women entrepreneurs through in-depth training and augment managerial and entrepreneurial skills through mentoring, incubation, and financial support."
The incubation manager for the WSP is Dr Shivaji Dhawad. Some of the selected WSP participants from across Maharashtra who are currently being incubated at IIM Nagpur are: –
Leena Dixit's 'Nativ Chefs': As the name suggests, it is a platform where traditionally authentic cuisines that are not easily available in the market and are cooked/ catered by homemakers will be made available.
The startup has been evoking a good response in the city. The idea is to not only serve authentic food but to enhance the customer experience.
Antaraa Vasudev's 'Civis': It is a tech-based platform that lets citizens and Government communicate seamlessly. It enables people to understand the laws and legislation that affect them while empowering citizens to share their feedback on these laws. In other words, this platform can help fill the gap between the citizens' expectations and the government policies.
Shweta's 'AstroNspace': This venture is about the facility to learn astronomy at various levels in scientific temperament with a creative way.
Krati Garg's 'FemArtha': FemArtha' is a financial adviser for families with a special focus on goal-based planning. The concept is about helping families in getting their finances and investments right.
Vidya R Nair's 'SVAभिमान': It is a concept of Clean Toilets. The venture is about providing premium pay and use sanitation facilities to Indian and foreign tourists. It is an ambitious one and definitely the need of the hour.
Dhanashree Ambaselkar's 'Dobby-The-Chef': Dobby-The-Chef is a start-up that provides premium pet food service which delivers fresh, healthy and a nutritious pet food. The fresh food is formulated by expert veterinary nutritionists and is customised for your pet's needs. The idea is to help pets build a strong immune system so as to fight, potentially deadly yet preventable, health problems by switching to a raw, customised, balanced and complete diet.
Shikha Verma Thutheja's 'Studio Uniforms': It is an online and offline platform which has successfully generated revenue within 2 months of incubation at IIMN. The venture is not gone online yet. The need of the hour is to ensure that every brand, every employee working in a company or an organisation requires a professional work wear uniform that reflects a powerful brand image. Studio Uniforms caters to this need of customised uniform designing.
Alisha Nanda's 'Hungerpacks': This venture is about knowing and choosing food better. It aims to collect honest reviews and build a consumer research for the product brand so as to help the brand upgrade the product and for an active consumer engagement. The Hungerpacks' report based on the customer reviews helps the brand to transform their strategy and products for good.