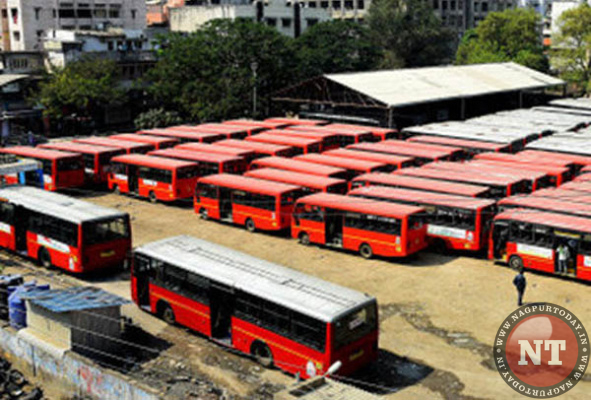 Nagpur: Rattled by the 4-day strike resorted by the three operators of Aapli Bus, the Nagpur Municipal Corporation (NMC) has decided to recover the losses incurred by it from the erring operators.
It may be recalled that the Aapli Bus service had come to grinding halt last week as the three operators demanded payment of pending dues from the NMC. The civic body owed Rs 14 crore each to the three operators. As the operators found it difficult to make various payments such as fuel payment, bank instalments, salaries of conductors and drivers etc, they stopped plying the buses to exert pressure on NMC. The bus service resumed only after NMC agreed to pay Rs 2 crore each to the operators.
Asked about the revenue loss incurred during the period of this strike, the Chairman of Transport Committee Jitendra Kukde told media that the operators would be held accountable for the same. The four-day strike caused loss of around Rs 68 lakh to the NMC and it will be recovered from the operators. The loss caused due to 'misappropriation' of ticket charges by conductors will be recovered from Delhi Integrated Multimodal Transit System (DIMTS), which is supposed to keep check on the 'Aapli Bus' operators and services, he added.
Surprise check of city buses:
The NMC officials on Friday conducted surprise inspection of 206'Aapli Buses' and decided to initiate action against seven conductors for 'dereliction of duty' and 'causing loss of revenue'. Kukde, said that the surprise inspection was taken up to 'plug revenue leakage'. Several conductors were not issuing tickets despite receiving money from the commuters. This caused revenue loss to NMC, he said.
20 teams of officials conducted the drive and checked total 206 buses, and found seven conductors guilty of 'dereliction of duty' and 'causing loss of revenue' to NMC. Of these seven conductors, five did not issue tickets despite receiving money from commuters and two 'did not co-operate' with inspection squad and even misbehaved with officials. "We will continue conducting such surprise inspections in days to come. We request the commuters not to travel without ticket.
Also, they should insist on having ticket for the distance they travel in city buses. This will automatically keep check on the conductors as well as help NMC in curtailing revenue losses," Kukde said. The commuters having any complaint relating to driver/conductor of'Aapli Buses' should lodge the same by dialling the toll-free telephone number 0712-2779099. They may also forward photograph/video clip of irregularities relating to driver/conductor to WhatsApp number 7507000465, he added. Already, NMC has asked the drivers not to use mobile phones while driving the buses.
Replying to a question, the Chairman of NMC Transport Committee said that there were 82 Checkers deployed to conduct regular inspections of city buses. "However, considering the possibility that some of them also might have been hand-in-glove with erring drivers/conductors, we constituted teams for surprise inspection," he said.