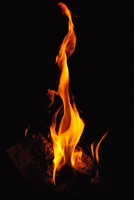 Nagpur News : With 90% burn injuries, a mother of 14 month-old baby of Mandwa in Mahdya Pradesh was brought to city's private hospital at Dhantoli on Wednesday morning. 27-year-old Archana Pande, has stated to the magistrate that she was set ablaze by her husband Aseem and in-laws for dowry of Rs 10 lakhs at their Mandwa residence on Tuesday night.
Archana's condition is stated to be critical by the doctors.
Her father, Rajendra Tiwari told that Archana had an arrange marriage with Aseem two years ago. He claimed that two months after marriage, Pande and his family members has been torturing her for dowry. Aseem owns a small automobile shop in Mandwa.
Archana, in her statement, told that her brother-in-law Ashish and his wife Katavya, even tried to kill her daughter, Sinu. In her statement to the magistrate, she claimed that on Monday evening, Pande and her in-laws dragged her in the kitchen and set her ablaze by pouring kerosene.
She added that her in-laws had then locked her and didn't open the door for two hours. She was later rushed to hospital in Mandwa by her neighbours who heard her screams. Tiwari said that for hours, she was not given any treatment by the doctors. Thus, he shifted her to the city hospital.
Archana even added the names of her mother-in-law Meena and sister-in-law Kirti involved in setting her ablaze. Both the city police and MP police has taken her statement.
Tiwari told that the police have failed to nab the culprits yet. All the alleged accused has been absconding.