Nagpur News.
Sensation gripped Kalamna as a 22 year-old woman was found murdered under mysterious circumstance at her house. The deceased has been identified as Puja Jhangade. Puja's body was lying in a pool of blood. The reason behind the murder could not be ascertained yet.
Police Inspector at Kalamna police station Sampat Chauhan told Nagpur Today that the police got an information on Monday at 11:30 am that somebody has murdered Puja Deepak Jhangade in her house situated near the Panchasheel floor mill at Kalamna. As soon as PSI Wankhede got information, he reached the scene of crime. He found the blood stained body of Puja. The police suspect that Puja could have been murdered late in the night.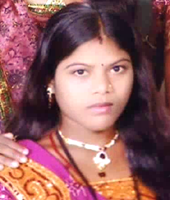 According to sources, Puja was married recently. The police suspected that Puja could have been murdered by her husband and in-laws suspecting her fidelity. Police Inspector Chauhan said that he is investigating on various other angles too. No one was arrested till the time of filing the report. Further investigation is on.