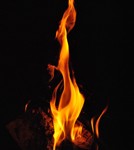 Nagpur News: In two separate incidents, a woman and girl succumbed to burn injuries inflicted by the flames from the burst stove. The two were in their kitchen preparing food when the incident took place. Both were admitted to Mayo hospital where they breathed their last while undergoing treatment.
The deceased woman Sarita Vikas Vyapari, 23, resided at Narayan Nagar in Waddhamna while Priyanka Prakash Fulmali, 17, was the resident of Suyog Nagar on Nari road in Nagpur.
Police sources informed that Sarita was cooking when suddenly the stove bursted engulfing her into the flames. She received serious injuries and was admitted to Mayo hospital. Wadi police has registered the case of accidental death.