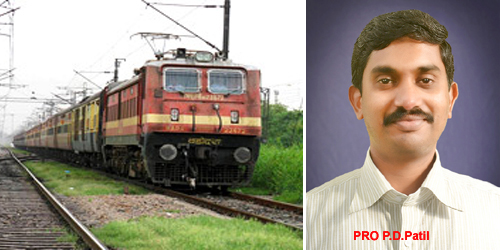 Nagpur News : Railway have decided to run special trains 09736/09735 Secundrabad-Jaipur-Secundrabad to clear the extra rush of passengers. The details are as under :-
09736 Jaipur-Secundrabad special will leave Jaipur at 9.10 pm on 9th March 2013 (Saturday) and arrive Secundrabad at 03.35 am on third day (Monday).
This train will leave Nagpur at 4.50 pm hrs. and Balharshah at 8:00pm hrs on 10th March 2013.
09735 Secundrabad – Jaipur Special will leave Secundrabad at 11.25 pm on 11th March 2013 (Monday ) and arrive Jaipur at 06.15 am on third day (Wednesday )
This train will leave Balharshah at 6.10 am and Nagpur at 10.30 am on 12th March 2013.
Halts:- Durgapura, Bhanasthali Niwai, Savai Modhopur, Kota Junction, Nagda Junction, Ujjain, Shujalpur, Sehore, Bhopal, Itarsi, Nagpur, Balharshah, Sirpur Kagaznagar, Belampalli, Manchiriyal, Ramgundam and Kazipeth.
Composition: – One First-cum-2 Tier AC, One AC-2-tier, Four AC-3-tier, 10 Sleeper Class, 2 General Second Class and 2 General Second Class cum brake vans.