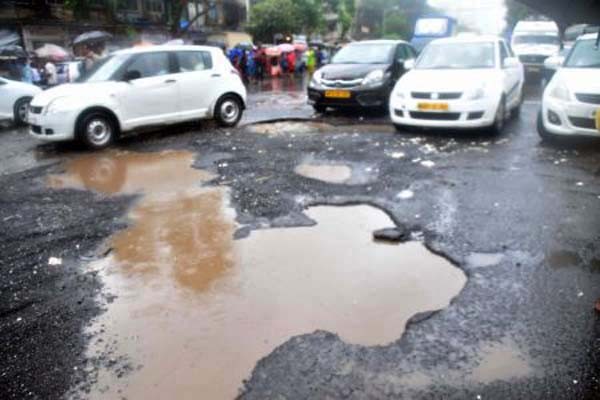 Nagpur: With monsoon ordeal staring face of Nagpur Municipal Corporation, the 'worried' Mayor Nanda Jichkar has directed the civic body complete resurfacing and repairs of roads, potholes on war-footing. The civic body takes severe beating every year as the roads are riddled with potholes with the very first showers of monsoon rains.
The Mayor directed the civic administration that Nagpurians should not face any inconvenience due to pothole-ridden roads. Though no deadline has been set for this, the Hotmix Department has been instructed to complete all repairs at the earliest.
The Department has also been asked to look after those roads from where complaints come every monsoon and handle it on priority. Earlier this year, ward officials were told to submit list of roads under their jurisdiction that needed repairs urgently. The Hotmix Department had claimed to have repaired 9,434 potholes across the city roads in the last fiscal. The highest number of potholes — 2,398 — were repaired in Laxmi Nagar Zone, where the roads are considered to be always better compared to other zones. It was followed by Dharampeth Zone with 1,439 pothole repairs in 2017-18. Similarly, potholes in Hanuman Nagar Zone (734), Dhantoli (890), Nehru Nagar (942), Gandhibagh (633), Satranjipura (326), Lakadganj (628), Ashi Nagar (581) and Mangalwari (863) were repaired.
Apart from repairing of potholes, Jichkar has also instructed to set up control rooms at zone-levels and asked the administration to prepare a list of dilapidated buildings that pose grave hazards to residents in the event of cave-in.
Meanwhile, Vidarbha Taxpayers Association Secretary Tejinder Singh Renu has urged the National Highways Authority of India (NHAI) to ensure roads maintained by them remain pothole-free. "With heavy rains sure to lash our city within a week; it's extremely important to repair side roads at places where work is in progress for flyovers like Sadar Flyover and Bhandara Road, etc. As the roads are dry now, repairs are quite easily possible and such repairs done now will last longer too," he pointed out in a letter to the NHAI regional officer M Chandrashekhar. Once monsoon sets its feet on Nagpur, these side roads will become extremely dangerous for two-wheeler riders, he stated.