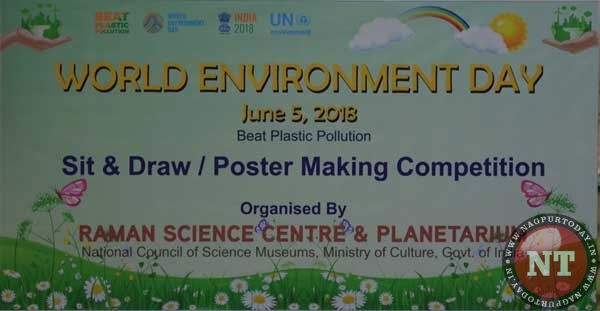 Nagpur: The city-based Raman Science Centre (RSC) celebrated World Environment Day by organising various programmes including Sit & Draw Contest/Poster making Contest, Popular Science Lecture and Open House Quiz to mark the day on June 5.
The Sit & Draw Contest / Poster making Contest was participated by 134 students of Class I to X. The topics for this contest were 'Grow More Trees: Save Environment', 'Save Wildlife, 'Plastic Free Nagpur Campaign'. Popular Science Lecture on the topic "Harnessing Microbial Community Intelligence for Environment Clean up" was delivered by Dr (Mrs) Atya Kapley, Senior Principal Scientist, AcSIR faculty, Environmental Biotechnology and Genomics, CSIR-NEERI, Nagpur. She stressed to develop the culture of good habits to save environment right from childhood. She further said that now it is possible to combat the plastic pollution naturally by developing bacteria which feed on plastic.
An open House Quiz was also conducted in which questions based on Environmental Science were asked to the students. The successful students were awarded on the spot. Nearly 145 students, parents attended the event.