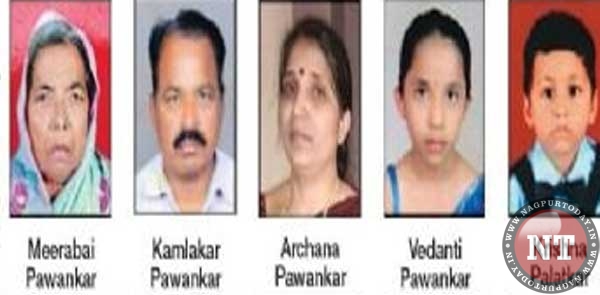 Nagpur: With the increasing murder trail in Nagpur, the citizens are the most petrified lot worrying over their security. Recently the brutal murders of 5 members of Pawankar and Palatkar family has put the citizens in deep shock. The crime was committed in deceased Kamlakar Pawankar's house in Aradhananagar, off Ring Road near Kharbi in the outskirts of the city. Questions are now being raised about future of the two minor girls, both aged seven years, who had survived the carnage.
Pawankar family, busy in completing rituals for the five dead, are learnt to be now caught up in a dilemma around cousins Vaishnavi Palatkar and Mitali Pawankar. Both of Mitali's parents, Kamlakar and Archana, were allegedly killed by prime suspect in the case Vaishnavi's father Vivek.
Vaishnavi too is now left with none to look after her as Vivek had already murdered her mother Savita in 2014 and is now set to face stringent action for murders if caught. Vivek also ended up killing Vaishnavi's younger brother four-year-old Krishna with others. Vivek had also killed Kamlakar's elder daughter Vedanti and his mother 70-year-old Meerabai.
It is learnt Pawankars may not have any issue with sheltering Mitali. Sources close to family claimed one of the sisters of Kamlakar may opt to raise Mitali. "It's Vivek's daughter Vaishnavi who may not find any taker as none is ready to sympathize with her father. "Pawankars also feel one of the reasons behind Vivek's rage was Kamlakar's refusal to allow Vivek to take his children away as he had no fixed job or house," said a close family source. "They may think sheltering Vaishnavi may be tantamount to inviting death," he said.
A source from Nandanvan police station said a few members of Pawankar family had requested them to find a hostel or orphanage for Vaishnavi.
Meanwhile, Nandanvan police and crime branch are learnt to have summoned several persons who were in touch with Vivek in the last few days. A former woman colleague of Vivek too was quizzed for several hours by the cops.
Sources claimed police were in touch with Katra police near Vaishnodevi shrine in Jammu where Vivek had visited after killing his wife Savita. Police also tried to locate Vivek's house at Dighori but in vain. Cops also fear the temperamental Vivek may commit suicide in frustration.