Will State Govt provide justice to devastated investors, enact law to avert duping in future?

Now, the Chief Minister Prithviraj Chavan and his Cabinet Ministers, MLAs, top Government officials are in Nagpur, the city rattled by scamsters, for Winter Session of Maharashtra Legislature. All these top dignitaries have been well apprised of the scams and duping of thousands of small and middle class families in crores.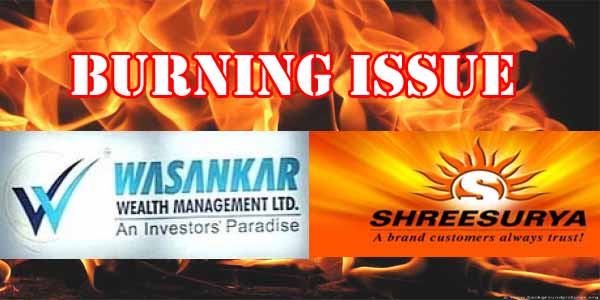 Nagpur News: The disaster has struck. The past four years have proved destructive for citizens of Orange City. The monster of "greed" for more and more easy money among people in general and the middle class families in particular has swallowed them. The monster of "greed" left thousands of middle class families shattered with their hard earned money being gobbled up by scamsters or fraudsters or swindlers or scandalous elements.
Now, the Chief Minister Prithviraj Chavan and his Cabinet Ministers, MLAs, top Government officials are in Nagpur, the city rattled by scamsters, for Winter Session of Maharashtra Legislature. All these top dignitaries have been well apprised of the scams and duping of thousands of small and middle class families in crores. If the Government shows its will power to provide justice to the devastated families and also avert such calamities in future, it should bring forth the strongest law and enact an Act by which the innocent citizens would be adequately protected from falling prey into the traps of robbers in white collars. At least, the leaders can develop the Second Capital by this act to avoid such disasters in future.
And the reason for all this disaster, devastation, and destruction is thoughtless investment by the citizens in the firms which have trapped them in a well-planned conspiracy by luring the investors of doubling, trebling their money in the shortest period. And the blame for damage lies only with the middle class families for their thoughtless actions of pouring money into the firms without ascertaining the credibility of the firms and their offers of multiplying the invested money.
Of course, police and Government agencies like Reserve Bank of India and other monitoring agencies have totally failed to alert the citizens to not to fall prey to any allurement of doubling, trebling the invested money as the offers could be a trap by the individual scamsters, fraudsters and swindlers. The police and Government agencies were fully aware that some individuals through their companies were spreading their net to trap the citizens by publishing full page advertisements in local newspapers on regular basis. Had the police and Government agencies also issued caution notices about the nefarious designs of the firms, thousands of citizens would have been spared of looting of their hard earned money. The police and the Government agencies are the main "culprits" for throwing the common citizens into the traps of scamsters, fraudsters, and swindlers.
The scamsters Pramod Agrawal, Jayant and Varsha Jhamre, Sameer and Pallavi Joshi took the advantage of the loopholes in rules and regulations and criminal negligence on the part of police and Government agencies in trapping the innocent citizens and swallowed their money in crores. Though they may be in jails but the fact would not provide any justice to the thousands of duped investors unless their money is returned back by the perpetrators of devilish actions. Now, the newspapers and other media have been running the disturbing reports of Wasankar Investment Company's evil actions of duping the investors.
The Nagpur Today, keeping in mind the interest of citizens and their hard earned money, is providing some tips taken from bestseller book "How to smell a rat" written by Ken Fisher and Lara Hoffman. The tips are about investment in future and alertness:
ALTERNATIVES FOR INVESTMENNT:
·         Invest in fixed deposits in nationalized banks or post offices, Government bonds, Government insurance schemes, Indira Vikas Patra, Kisan Vikas Patra etc. These are safe investments for middle class families.
·         Middle class people should avoid investment in share market. Share market is full of risk. If want to invest, then invest through Government or private company mutual funds.
·         Take utmost care in dealing with share brokers. Ascertain whether the broker or sub-broker is registered with SEBI. Check whether the broker has permission to deal in share market. Know from the broker in which share the investment is being made.
·         Stay alert and ensure the broker is investing your money in share market and not running his own scheme with your money. Always check de mat passbook for entries of purchased or sold shares.
·         Procure statement of transactions from the broker. If any dispute arises with the broker, file a complaint against the broker in SEBI. The complaint can even be lodged on SEBI website.
·         Think twice before investing in private firms offering 30-40 per cent interest on your investments. No firm can give such massive interest in any circumstances.
Also Read Below Nagpur Today Report on Wasankar
Wasankar Scam : Investors panic as promise of high return turns fake; CM's intervention urged
Nagpur News: After EOW has arrested directors of 'Shreesurya Group' under charges of cheating  over 10,000 investors from farm crisis hit Vidarbha and Marathwada,  luring them with towering return. The ponzi schemes by this group turned out to be fraud as the investors are now running from pillar to post to their money back. The same fate appears to be in the offing for one such company Wasankar Wealth Management being run by Dr. Prashant Wasankar here.
Wasankar gave post dated cheques
It surfaced that Wasankar Wealth Management company has eroded the hard earn money of  over 2000 innocent  people by offering them quantum hike in their sum within short span of time.  The documents in possession of Nagpur Today showed that Wasankar charged huge amount membership as much as Rs. 1 lakh per annum and collected over Rs 2000 crore. He assured the depositors by giving them post dated cheques offering around 30% interest on deposit. A source close to the organization revealed, "Forget the interest, now investors are finding it tough to get back their own money back."
CM urged to interfere
Kishore Tiwari of  Vidarbha Janandolan  Samiti (VJAS) informed that Maharashtra Chief Minister Prathiraj Chavan has been urged to initiate the action against  Wasankar Group promoters under Maharashtra protection of investors deposit act 1999 (MPID) in order to save these investors. In a press release Tiwari said, "The greed of higher return is leading to victimization of innocent. Most of the investors are middle class pensioners. Hence we are urging CM to have urgent intervention to get these pensioners their actual sum atleast. We have received many complaints about Dr. Prashant Wasankar denying pay back, citing financial crisis."
Tiwari insisted that the state should give him financial bailout package as all illegal activities of Wasankar was promoted and protected by babus, police and other hostile pillars of democracy.
Expanded to Australia, Singapore
In a letter to CM Tiwari said that Dr. Prashant Wasankar  has been working in Nagpur as sub-broker of BSE-NSE capital market since last 23 years. He has earned the confidence of investors to larger extent and has been writing in local newspapers on wealth creation solutions. He managed to arrange investors meet in all metros of India and abroad and also having active operation in Australia and Singapore but his real activities of  running fishy and illegal deposits schemes offering unbelievable interest rates were reported in February this year.
When Shreesurya scam was exposed first by Nagpur Today, cracks started appearing in the trust that people had in Wasankar. Since then, panic grew large among investors who lined up to get their money back. It was then that investors realized they have been dumped and cheated by fraudulent misleading investment advices given by Dr.Prashant Wasankar.  Eventually, hordes of investors approached VJAS to  get back their hard earned money back.
Promissory notes, cheques point dubious detail
VJAS has also attached promissory notes and cheques given by Wasankar and also the interest chart signed by himself. This also proposed the schemes that offer to double the money within 30 months along with  a membership proposal that required the people to deposit 1 lakh rupees. Later, Dr.Prashant Wasankar failed to return the money.  He has been asking the investors to wait citing recession in share market while the gullible investors keep visiting the office of  Wasankar Group. In the letter to the Chief Minister,  VJAS has drawn the attention of administration that all deposits collected by Wasankar's company are illegal and has no legitimate status where as he has been fully protected by local Police Authorities, SEBI, RBI, Govt. of Maharashtra etc. The pattern of functioning of Wasankar Wealth Management Group  is nothing but money laundering activities and it has international network too, Tiwari  alleged.
Wasankar's bankruptcy reported earlier
Recently the alleged  illegal activities and bankruptcy  of Wasankar group was reported in electronic and print media but administration and police turned blind eye that time too. But now investors are gathering before the office of Wasankar Group  and crying for money. However they are finding themselves helpless as administration is yet to take the matter seriously.
Authorities must act before it's too late
Sameer Joshi has duped innocent investors of around Rs.240 crore earlier. Pramod Agarwal through his dubious money doubling scheme duped thousands of investors to tune  of Rs 100 crore on the name of Mahadev Land Developers and  Ullas Khaire had dumped  around 1 lakh people of Rs 1,100 crore and now this Wasankar Group  likely to repeat the same story. "Hence we are urging CM to initiate action under  Maharashtra protection of investors deposit act 1999 (MPID)  against  Wasankar Group  Promoters so that innocent investors hard earned money is protected," Kishore Tiwari added.