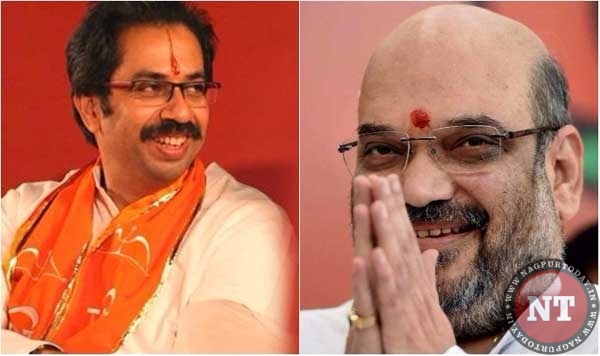 The Shiv Sena today questioned the BJP's outreach programme after suffering defeats in bypolls and asserted it will fight all upcoming elections solo, attacking the party on a day its president Amit Shah meets Sena chief Uddhav Thackeray.
Shah is in Mumbai today to meet Thackeray as part an effort to reach out to NDA allies ahead of the 2019 general elections.
"The prime minister is touring the world and BJP chief Amit Shah is going around the country as part of their sampark programme. Shah will be meeting NDA allies. However, what exactly will he do? Why is he meeting at this juncture when the BJP has suffered defeats in bypolls," the Sena asked in an editorial in the party mouthpiece Saamana.
The focus on the 2019 polls may be the reason for Shah's outreach, but the BJP has lost connect with the people, it said.
"Winds of change of governance are blowing in Rajasthan and Madhya Pradesh. Change of governance is inevitable in Maharashtra as well. Amit Shah intends to win 350 seats in the Lok Sabha on the BJP's own strength. He says Ram Mandir will be built then. His stubbornness needs to be saluted," the Sena said.
The party added that inflation had peaked due to the high prices of petrol and diesel and farmers were protesting as their connect with the government was lost.
During the Palghar bypoll, posters of Modi and Amit Shah went missing, it said, adding that the party used the posters of its late MP Chintaman Wanaga despite protests from his family.
"After their win, Modi and Shah were back on the posters. This shows that commercial arithmetic decides who and when you keep contact with and when to break (contact)," it said.
It noted that the BJP had broken contact with TDP's Chandrababu Naidu in Andhra Pradesh and questioned if building an equation with him once again will be part of Shah's outreach programme. If Naidu does not agree, Y S Jaganmohan Reddy (of the YSR Congress) is available, the Sena sarcastically added.
Shah, who will meet Thackeray at his Mumbai residence today, will travel to Chandigarh tomorrow to call on Shiromani Akali Dal leaders Parkash Singh Badal and his son Sukhbir Badal, a BJP leader said.
The series of meetings are being seen as an attempt by the BJP to reach out to allies who have either been criticising or expressing their dissent with the party and also to strengthen the National Democratic Alliance ahead of the Lok Sabha polls next year.