Nagpur: That Devendra Fadnavis acted as a model is now a well known fact. For the sake of those ignorant, when he became an MLA for the first time, a poster of him had flashed in a cloth advertisement in Nagpur. The newspapers had used columns after columns to describe Fadnavis as a model MLA. But what happened after that and other anecdotes have now been published in a book titled "Devendra Fadnavis" authored by Sushama Navlakhe.
In her book, Sushama Navlakhe has reviewed amazing working style of Chief Minister Devendra Fadnavis.
Sushama says, "Devendra is very good looking. He looks like a family man and romantic hero of old Hindi movies. He also likes to venture in modelling". Sharing an anecdote in this regard quoting Shailesh Jogalekar, an old friend of Devendra Fadnavis, she says "This incident is of year 2004. Posters installed at many squares had drew attention of people. Everybody was in dilemma after seeing the face of the model. After watching the poster, everybody would utter, Aare ha tar aapla Devendrabhau aahe".
Fadnavis was in his first tenure as an MLA. The reputed photographer from Nagpur Vivek Ranade had clicked photos of Devendra. An owner of a readymade cloth firm liked the photographs very much. He sought permission to use the photos in his advertisement. Soon the smart face of Fadnavis flashed in the cloth ads across the city.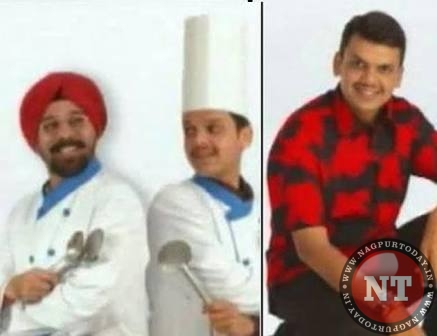 At that time, Prime Minister Atal Behari Vajpayee was leading the NDA Government at Centre. Vajpayee heard about Fadnavis through his close aide Adv Appasaheb Ghatate from Nagpur. He expressed his wish to meet Devendra Fadnavis, the model MLA. After receiving direct invitation from the Prime Minister Vajpayee, Ghatate, Jogalekar and Fadnavis went to Delhi to meet him.
Vajpayee, after seeing Fadnavis, uttered, "What a smart model is he".
The fact was narrated to Sushama Navlakhe by Jogalekar.