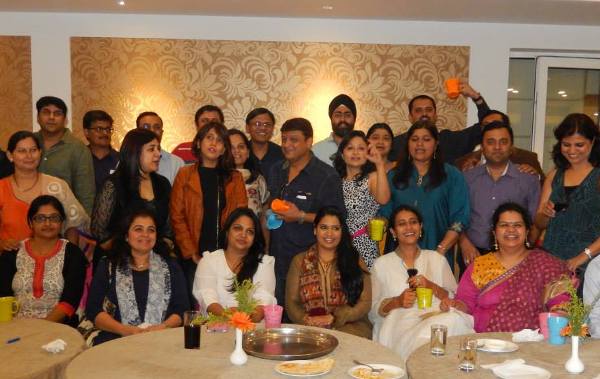 "Don't be dismayed at good-byes. A farewell is necessary before you can meet again. And meeting again, after moments or lifetimes, is certain for those who are friends", truly has quoted Richard Bach! Although one is apprehensive about meeting old friends after long, the feeling of excitement with it cannot be described. And as the meeting finally takes place, the mates ought to forget the outside world and become those notorious school kids yet again!
This is what happened at the reunion of Mount Carmel school, and the days of exuberance returned for its ex students. The pals were seen renaming each other with their old pet names. Also, trendy walks cum ramp walks at the venue made the mood of the get together even more hilarious.
The photo session and autographs on the mugs given to each alumnus helped them take back home ample memories of the reunion.
The cake cutting towards the later half spread the sweetness even more. A few expressed their views saying-
Shaily Gambhir , a Recruitment Firm holder and a qualified Counsellor- "Though I joined Mount Carmel School in the 9th std, I have very fond memories of the time spent there and most of my best friends till date are from school."
Dr. Ujwal Parikh, Anaesthesiologist by profession- "Primary school reunion was my most blissful moment in recent times as it revoked the sweet memories of our innocence."
Renuka Ghosh, work as Assistant Manager with HDFC Ltd- "Still cheerful after such a beautiful time at the reunion and made some new friends as well."
Dr Shaunak Mokadam, an eye specialist, working as pediatric ophthalmologist & cataract refractive surgeon at Anjani Eye Hospital, Nagpur-"Reunion re-connected me to some of my friends after almost 34yrs."
Tripti Advani, now Muskaan Nayyar, a teacher by profession but since the last 9 years working as a Saving Advisor-"It was wonderful to re-connect with all my school friends. Hope to see many more school mates next time."
Aparna Apte, entrepreneur handling a private salon and loves to own creative ideas- "It was wonderful reviving child hood memories and giving a feel of being a child once again…"
Anuja vasudeva, working as a medical officer (doctor) with Delhi government- "Enjoyed at the reunion, cherished all the past memories, recalled and reconnected with all the batch mates, would like to be in touch."
Priya Mulak Tidke-"Had a blast at the reunion and was happy to recollect the sweet childhood memories!"