When pretty Indian ladies graced the Haldi-Kumkum Ceremony at Tidke's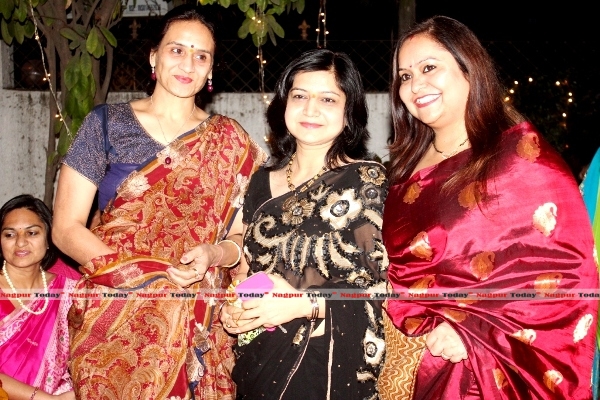 Nagpur Today:
The auspicious eve of Makar Sankaranti at the Tidke's got celebrated by women their way! Following the Indian traditions were these elegant ladies attired in best of their sarees. The Bhavishya Bharat Foundation joining hands with BJP Women's wing organized the Haldi-Kumkum Ceremony at the Aroma House, Gandhinagar. Chief guest for the ceremony were Sau. Kanchantai Gadkari and Sau. Savita Ajay Sancheti. Sau Kirtida Ajmera, City President, BJP Women's Wing was present as guest of honour. On this occasion around 150 ladies were welcomed by Tilgud and Van and exchanged Haldi Kumkum.
Corporaters Sangita Gire, Sadhana Barde, Lata Yadav, Maya Iwante, Varsha Thakre, Mina Tidke, Vishakha Maind, Suvama Sudhakar Deshmukh, Jaishree Jaiprakash Gupta, Kavita Loya were also prominently present. The program was organised by Sau. Surabhi Tidke and Sau. Shweta Nigam, who had all the support of the BJP women's cell.  Sau. Manjusha Bangale and Sau. Vishakha Joshi took great efforts to make the programme successful. Bhavishya Bharat Foundation shall soon be starting its operations in the city and will continue to serve the society wholeheartedly in near future.
PICS BY : Vicky Thorat