When hunger strikes – Haldiram mobile food van at your service!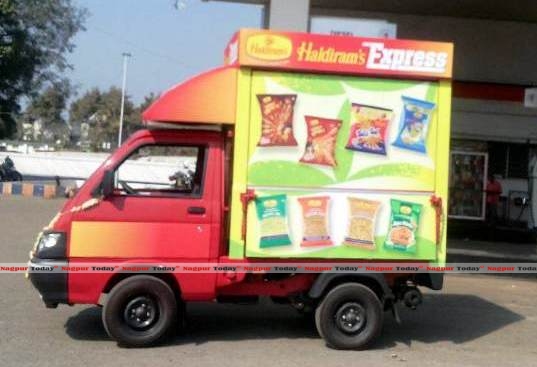 Nagpur: This is the thing that is really laudable about the Agrawals running Haldiram. They never rest on their laurels and become content with what they have. Its always something new they are after, and the effort shows in every new idea and new venture of theirs.
This time it is the Haldiram mobile food van – and brain child of Neeraj, the third generation of the family. Inspired by what he saw in his student days abroad, he realized that though Haldiram has the largest net work of sweet shops and restaurants in Nagpur – eight as of now, 9th at Medical square about to be launched – there are still vast areas that do not have any hygienic yet reasonably priced food joints. Like the stretch of road from Hingna T point onwards till the Wanadongri area that is an Educational hub with many Engineering colleges and the Lata Mangeshkar Medical college. There are canteens on the campus no doubt, but students are always eager to try out something new.
Thus was born the idea of mobile food vans, which as the name suggests – will be mobile and move to different places as per timing and need.
Another contributor to the idea was Piaggio India's Nagpur G.M. Mr. Amit Singh. He first approached Haldirams with his idea of turning Piaggio's 'Porter' into a mobile food van 'food on wheels that is so popular in cities like Bangalore, Hyderabad and Chennai. He had some rudimentary drawings ready to back up his idea.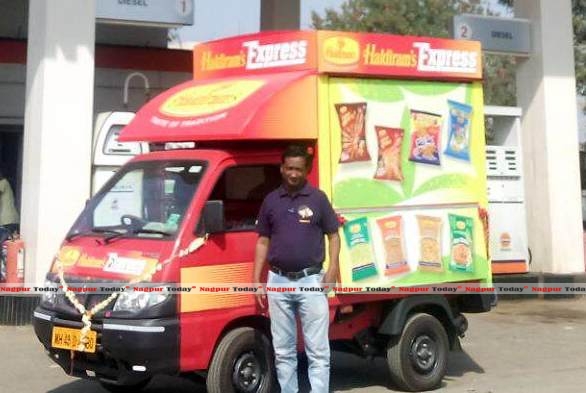 Thus the joint planning began, with lots of planning and brain storming sessions from July – August this year. The final vision is to flood different areas of Nagpur with such vans, but first one van was to be tried out as a demo and trial piece.
That van rolled out today, filled with ready-to-serve food items from the Haldiram Trimurti food mall and parked at an Indian Oil petrol pump just beyond MIDC Hingna owned by a lady entrepreneur called Suchitra Lohakare who loved the idea and offered her premises free.
The van is equipped with a micro wave oven, a hot case and also an ice box for water bottles. It has its own generator to run the owen and the hot case which will also display food items available. Apart from food items, Haldiram packaged namkeens will also be sold from the van.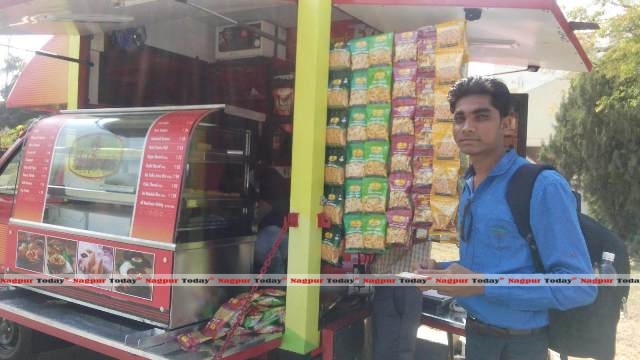 The Haldiram team that has been working on this concept is Mr. Pravin Deshpande Sr. Manager Sales and Mr. Vaibhav Ingole who is personal assistant to Neeraj Agrawal. The key man who will be manning the van is Manish Babhulkar who has prior experience of running his own Vada Pav kiosk near VCA stadium for some time.
He has an interesting history to the wada pav. His grandfather living in Hinghanghat had a secret recipe for the wadas and sold them at a small eatery near the Railway station. So popular did his wada pav become that trains used to make an unscheduled halt at Hinganghat so guards and locomotive drivers could get their fill of the famous and tasty wadas! Then his grandfather passed away leaving the secret with his wife. It was this recipe that Manish used in Nagpur. When he got an opportunity to work with Haldiram in this venture he jumped at the chance.
The van will be offering popular items like paneer pakoras, dosa balls, gol cutlets, kachoris and samosas and also mini meals like rajma-chawal, kadhi chawal etc. Anyone interested in placing large orders can do so a day prior. The van will be used not just to sell food but also transport it as per the need. A very flexible arrangement indeed!
As Pravin talks about the future of this venture you can see how valuable it can be to a growing city like Nagpur. Based on their experience with the first van future vans can be offered as franchises to local jobless graduates to boost employment opportunities to fulfill that vital need also. The concept can then be extended to other towns of Vidarbha.
Nagpur Today, Haldiram's active e Media partner, were present and witness to the food van being set up and customers beginning to line up even before the food could be unpacked and displayed properly!
We observed that kachoris, paneer pakoras and dosa balls were proving very popular. Stray customers were eating and then carrying parcels too…
Truly where food is concerned, ( at least veg food ) Haldiram in King.