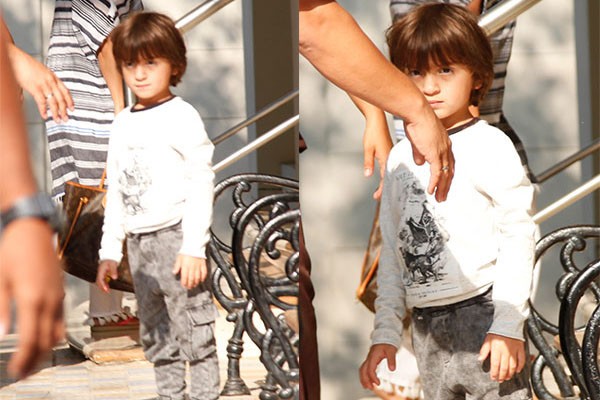 AbRam is a paparazzi favourite and the paps can't stop clicking pictures of him even if it's from a distance or through blurry car windows. However, lately, we Shah Rukh had been hiding AbRam's face almost all the times they stepped out. But this one time, AbRam was on his own and we finally could see his face. The little boy wonder seems to have grown up. While we often spot the star kid in a grumpy mood, this time he looked damn pissed.
AbRam had this how-dare-you look on his face but it was cute AF. While Shah Rukh and Gauri headed inside the venue, AbRam waited outside, looking furious, and we wonder why. Perhaps it was one of those cute tantrum-throwing episodes.
Looking at the pictures it wouldn't be wrong to assume that the family was visiting AbRam's school or classes.
Gauri had her eyes hooked on to her little one as she followed Shah Rukh's lead. AbRam stood out with the guards and was surely not in a good mood. We couldn't help but notice how even a grumpy AbRam looks cute as always. The star kid was seen wearing a white full sleeved T-shirt, with cargo pants just like dad Shah Rukh Khan. While we don't know who or what was upsetting the star kid in these pictures, we can't stop looking at them.