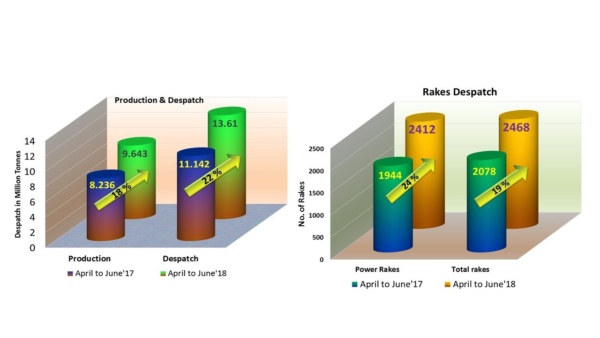 NAGPUR: Western Coalfields Limited (WCL), a Subsidiary of Coal India Limited, has created a record in coal production and despatch during first quarter of the current fiscal. This has resulted in an all-time high growth in coal despatch, particularly to Power Plants. With this substantial growth in despatch, WCL is fully geared-up to meet the demand of Power Plants linked to the Company.
WCL has produced 9.643 million tonnes of coal during April to June 2018 together registering a growth of more than 18 %. Similarly, the Company despatched more than 13 million tonnes during this period with a growth of 22.2 % over the corresponding period last year.
WCL has created a record in rake despatch to Power Sector during this quarter by dispatching 2412 rakes as against 1944 rakes during the same period last year, with a growth of 24 %. Total rakes despatched during the period were 2468 as against 2078 during the same period last year registering a growth of 19 %.
With daily production of more than one lakh tonnes of coal and daily despatch of 1.50 lakh tonnes and available stock of more than 7.6 million tonnes in the mines, WCL is fully geared-up to meet the demand of its power and non-power consumers during the monsoon period and beyond.
Major Power Consumers linked to WCL are MAHAGENCO, MPPGCL. WCL supplies about 70 % of coal only MAHAGENCO and 10 % of coal to MPPGCL. In addition, WCL also caters to the State Gencos of Gujarat and Karnataka, apart from NTPC, Adani, Reliance, GMR, Bajaj and many more entities.
WCL achieved 46.2 million tonnes of coal production and 48.7 million tonnes of despatch during the year 2017-18. WCL has to produce 52.5 million tonnes of coal and despatch 59.7 million tonnes of coal during the year 2018-19. With present high growth rate, Team WCL is confident to achieve both production and despatch targets for the year.