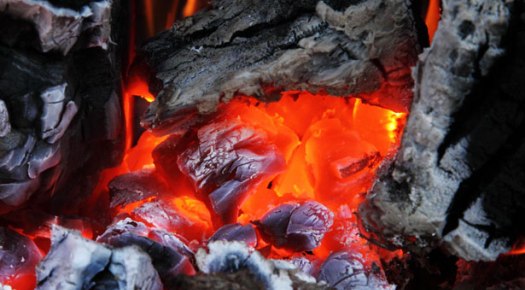 Nagpur News:
Nagpur or Orange City or Second Capital of Maharashtra is famous or infamous for its sizzling summer. Several citizens in the entire country think twice before coming to Nagpur during summer. The scorching summer not only batters the human beings but also the cattle, birds, dogs and other animals. However, this summer, the Sun God did not spare a company like Western Coalfields Limited (WCL). A huge quantity of coal dumped in the premises of Sasti Open Mine burning ceaselessly for the past three days. The quantity of coal amounts to thousands of tonnes. But the concerned WCL have failed to launch a war to kill the fire. And thereby incurring a loss of crores of rupees, too.
The WCL, proudly called Miniratna company, has become a spectator and is watching the coal in a massive quantity burn for the past three days. However, on the fourth day, a Fire Brigade tender was seen dousing the fire. After viewing the fourth day scenario, it was informed that the single fire tender succeeded in controlling the fire.
According to information provided by Dispatch Manager, who was present at the spot, the fire erupted due to sizzling summer heat. But the million dollar question arises over thousands of tonnes of coal is lying in the Sasti Open Mine and as far as measures to handle the fire were not taken by the WCL. The moot point is how the fire started in the coal dump and why no efforts were taken by the WCL to contain it has raised many an eyebrow. It may be recalled that the entire country is discussing the hot topic of massive scam in allotting coal blocks. In this situation several questions have been raised over lack of seriousness on the part of WCL officials. The workers of the mine too are a surprised lot as they wonder over the fact of frequent fires in the same mine. Why only this mine? Why not other mines in Ballarpur area? If one sees "dirty deals" on production by the WCL higher ups it will not be surprising!!!
Coal workers' leaders Sinu Viyanwar and Shivkumar Yadav have urged WCL CMD to take corrective steps to save the thousands of tonnes of coal dumped in the mine.