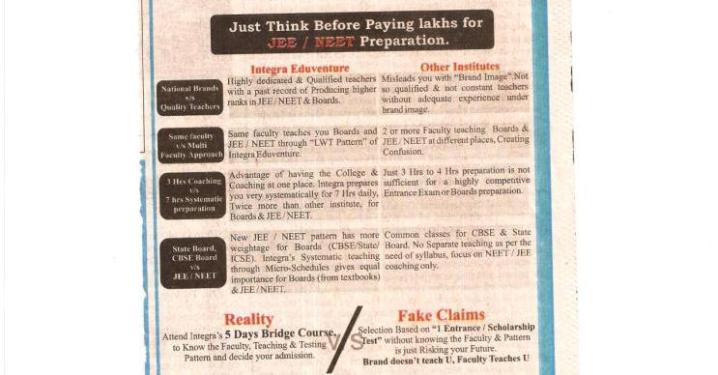 Nagpur News.
The tug of war among the JEE/NEET coaching classes seem to be the order of the season in Nagpur even as the students from class 10th to 12th are awaiting results. Every nook and corner of the city is flashing the hoarding advertisements of some or the other coaching institutes claiming to be the best. The parents are in dilemma and students on cross roads. Which one to choose? The news papers too are scattered with large number of advertisements. A recent advertisement from Integra – a Future Vista venture – grabbed many eye balls when it literally compared the features the way the car makers do. It even went on to criticize others to prove its proposition the best of all.
More new entrants have also joined the band wagon these days to claim their stature and cash on their brand entity. The coaching classes are coming out in well packaged product format to attract more and more students given the fee for full two years JEE programme (Mains+Advance) along with preparation for 11th and 12th stands between Rs 1.20 lakh to Rs 1.80 lakh per student.
Kota has in the recent past appeared as the assured sale quotient for these coaching classes. Nearly all the coaching classes claim their faculty to have been trained at Kota. As if Kota develops the talent to inculcate killer instinct among the JEE or NEET aspirants!
Nagpur Today explored the bustling coaching bazaar into the city and found out that the essence is somewhere lacking in the run for sale.
Though there are few good institutes like IIT Home which has been the preferred choice for majority of students in Nagpur as the institute has maintained its credibility, but the number of students it accommodates every year is too low. Under such circumstances the students have no option but to choose among the rest.
Ms Nisha Kothari, Managing Director, IIT Home commented on the current scenario saying, "The diminishing boundary between education and commerce is leading to desecration of the pious field of education in the larger picture. People are being misled by pretentious advertisements and false claims about results by coaching institutes. We at IIT-HOME are determined to maintain our focus and sanctity of efforts for our students. We work with a holistic approach towards development of students to provide the right balance of support and opportunity for self-evolution. Unperturbed by the market scenario we believe that our fundamental ideologies of truth and sincerity will carry us through the test of time as it has done for us so far."
Abhishek Bansal, Centre Head, Resonance Nagpur quipped, "Are we selling alcohol or lottery? Absolutely not. It is only that the coaching classes are in huge demand and the amount of fee involved is quite high, the whole issue is being made out of it." He said actually the coaching system should be restricted but it could not be done thanks to the weak education system of the government. Many schools and colleges lack the properly trained teachers which left no option for the students but to seek private coaching. He however admitted though there are some institutes which lure the students with wrong information, and it is then when all get painted in same color. "Even I have seen the parents complaining about certain coaching institutes and blaming the same for ruining their ward's career. As far branding Kota for promotion is concerned, he said that Resonance always strive to come out with high quality of teaching and the faculties from Kota are thoroughly trained and tested to match the desired standards of teaching. "When we pay high amount to rope in these trained and qualified faculties, eventually the fees will be higher. This is why probably Resonance has the highest fees in Nagpur. And I don't think anybody can match that level", he claimed.
However Panini Telang of Pioneer Study Centre, the newly launched arm of Pioneer Tutorials for JEE/NEET preparations clearly states that no amount of comparison is desirable and required, when it comes to imparting true education. He said, "Instead of comparing institutes, one should look for the amount of skill development it is providing. Telling the people about what others are doing and what I am doing is not going to help much. And at the end of the day who will prove the veracity of the claims made. Self proclamation is just like terrorism where one has decided that he is only the best. The masses are only fooled with such tactics. Logical thinking and analytical skills should be compared instead of weighing the bandwidth of institute's expanse." Telang said that claims are done more frequently but it all depends on who is claiming and what.
Shashikant of Aakash Institute refused to come up with official version, however he claimed that they have not resorted to much of the publicity.
Ritesh Arora, Director, Yukti Education, Engineering and Medical entrance examinations, commented that the changed pattern this year has led to the dilemma among the parents. He admitted that though marketing activities have gone up and there are some coaching classes that are catering to over 1000 of students for 11th and 12th class, but he justified the higher amount of fees charged going by the quality of education at these institutes. He said, "If you compare the quality of education fees is simply justified. As far marketing is concerned why only coaching classes…Even the schools and colleges are doing the same. Education has certainly gone commercial and coaching institutes are one of the highest tax payers. So it's a business and it requires branding also." He said that the whopping salaries are being paid to the faculties and the same is transferred to students as they get high quality of education.
R.V.Govardhan, Vice Principal, Palloti college of Engineering termed coaching classes as good support system for students. He said, "If you look at the quality of education there then it is certainly catering to the aspirations of students who are not getting the same in schools. Secondly, these coaching institutes are not aided by government and they have to afford the highly qualified faculties from their own pocket and that translates into higher fees of these institutes. The infrastructure and the sound faculty require expenditure and this is the reason why these institutes are charging so high."
He however cautioned that few among these institutes are also taking advantage of this situation. "So the parents and students should be careful before taking admission in any coaching institute.
Govardhan also suggested online coaching as the cheaper means of education and also good and viable for the students who cannot afford the cost. He said, "Why students should come from remote villages to Nagpur to get the coaching. In this age of information technology internet is available in all the villages with good connectivity. So why not opt for this? Parents need to be made aware of this option also. E-coaching costs far less and can be easily percolated through various sections of students. Even if teacher's presence is required then students can take up class once in a week. I may not say that it works 100% but it is 60-70% effective option."
He expressed confidence that within 5 years from now coaching scenario would undergo paradigm shift towards online. Only parents are required to know about its benefits.