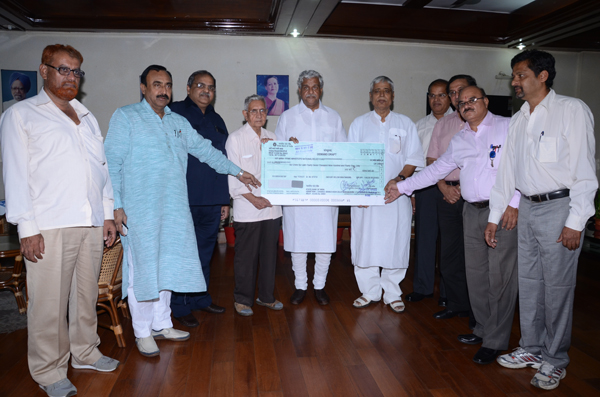 WCL Steering Committee comprising of representatives of Management and all the five Central Trade Unions along with Coal Mines Officers' Association under the Chairmanship of D C Garg, CMD, WCL had unanimously decided that all employees would voluntarily contribute their one day's basic pay for the benefit of people affected due to Himalayan Tsunami in the recent devastation occurred in Uttarakhand.
The Demand Draft of total amount of Rs 6,06,47,945/- collected through voluntary contribution of employees was handed over to  Shriprakash Jaiswal, Union Minister of Coal, by D C Garg, CMD WCL along with the representatives of trade unions and officers association in the gracious presence of S K Srivastava, Secretary, Ministry of Coal and Chairman Coal India S. Narsing Rao at Shashtri Bhawan, Ministry of Coal, New Delhi.
It is noteworthy that recently WCL has contributed Rs 50 lakhs as financial aid to the draught affected persons of Maharashtra State by way of contribution of Rs 50/- from the salary of each employee. It has also undertaken the works of Rs. 1.5 crores under corporate social responsibility for relief work in draught affected areas of Maharashtra. In the past also, WCL family had risen for extending helping hand, be it Orissa Cyclone, Gujarat Earthquake etc.
S. Q. Zama of INTUC, Dinesh M. Rawal of  BMS, M. M. Deshkar of AITUC,  Vidhyasagar Chaudhary of HMS,  S. H. Beg of CITU and  D. Subbarao of CMOAI were prominently present on the occasion.